What is a Full-Mouth Reconstruction?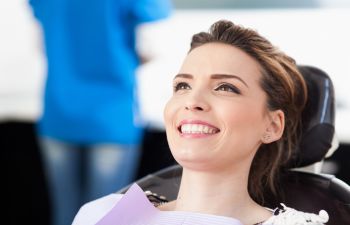 Most patients address their dental problems as they arise. This may involve filling a cavity, getting a single crown or even receiving a dental implant at separate dental visits and points of time. However, there are some patients that choose to live with multiple dental problems at once. When they finally decide to address their damaged smile and see a dentist, they may qualify for a full-mouth reconstruction. This type of treatment is exactly what the name implies, it is a process of rebuilding or reconstructing your entire smile. Here are some key facts about full-mouth reconstruction to help you understand it better:
Full-Mouth Reconstruction is a Process
Unlike a dental filling or root canal that may require a single visit to the dentist, a full mouth reconstruction may involve multiple trips to the dental office. When several dental issues are addressed at once, it requires strategic timing on the part of the dentist in determining what to fix first. In addition, it may be too much on the patient to endure several dental procedures in one sitting, both in terms of chair time and recovery.
Full-Mouth Reconstruction Addresses Function and Aesthetics
Don't confuse a full mouth reconstruction with a smile makeover. While the terms get thrown around interchangeably, there is a key difference. A full mouth reconstruction aims to fix cosmetic flaws of your smile as well as functional issues of your teeth (such as the way you bite down, talk or chew). Therefore, you may have a combination of restorative treatments, such as a crown, implant or bonding, as well as cosmetic dental services, such as teeth whitening, veneers or Invisalign.
Full-Mouth Reconstruction Requires a Multi-Skilled Dentist
The good news about a full-mouth reconstruction is that nothing is really "off limits" in terms of what can be done (as long as you qualify for the procedure of course). For instance, many patients who choose a full-mouth reconstruction have a combination of missing teeth, broken teeth or jaw alignment as well as teeth that are discolored, gapped, missized, etc. To correct such a wide range of issues, you need a dentist who is skilled in restorative dentistry as well as cosmetic dentistry. In fact, a talented cosmetic dentist who performs complete implant dentistry is often the best choice. A full-mouth reconstruction demands a balance of artistry and skill in modern dentistry.
To learn more about a full-mouth reconstruction or to start rebuilding your smile, call Crabapple Dental today. We have what it takes to correct your damaged teeth and give you a beautiful, healthy and confident smile in return!
Posted on behalf of Dr. Sarah Roberts, Crabapple Dental
Circle Us on Google+

Crabapple Dental – Alpharetta Dentist
12670 Crabapple Rd, #110
Alpharetta, GA 30004
Phone: (678) 319-0123