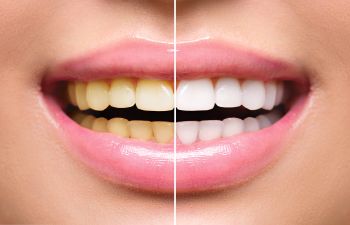 When it comes to brightening your smile, it's not hard to find a product or kit that claims to handle the job. Teeth whitening is something that can be done professionally (provided by your dentist) or as a do-it-yourself treatment using store-bought products. While store-bought whitening treatments can certainly be less expensive upfront, it is very important to consider the advantages of letting your dentist address your discolored teeth.
Here are some reasons to "go professional" if you want a whiter smile:
Store-bought whitening products aren't customized for your unique set of teeth. Most whitening kits rely on a cookie-cutter approach. However, a professional whitening treatment is guided by a dentist and can address every visible surface of your smile to foster an even and more dramatic improvement in color. In addition, when your dentist guides your cosmetic dental treatment, your smile health is never overlooked and unwanted irritation is often avoided.
Store-bought whitening doesn't consider the type or intensity of your stains. In many cases, only a dentist can determine whether you have intrinsic or extrinsic stains on your teeth. This matters! Most intrinsic stains can't be removed with over-the-counter treatments. You'll need the professional grade whitening or bleaching materials from your dentist, or you may need to consider another option, such as porcelain veneers.
Store-bought products often require repeated use and longer time to attain your goals. Some DIY whitening kits never achieve the shade of white you are looking for, and others take multiple attempts to get there. This can mean waiting longer for your bright smile as well as spending more money on repeat purchases. Professional whitening treatments, such as ZOOM!, however, requires a one-time investment with results in just one hour!
Crabapple Offers The Best in Professional Teeth Whitening
There are some remarkable solutions out there when it comes to professional teeth whitening. Crabapple Dental is proud to offer two of the most top ranked systems, ZOOM! And KoR Deep Bleaching. Give the gift of a brighter smile this season – call today to schedule your Professional Teeth Whitening.
Posted on behalf of Crabapple Dental
12670 Crabapple Road, #110
Alpharetta, GA 30004
Phone: (678) 319-0123
Email: drsarah@crabappledental.com
Monday: 7:30 AM – 4:00 PM
Tuesday: 9:00 AM – 5:00 PM
Wednesday: 7:30 AM – 4:00 PM
Thursday: 7:30 AM – 3:00 PM
Friday: 7:30 AM – 3:00 PM