Alpharetta Laser Cavity Detection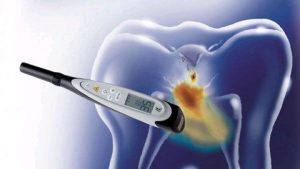 Crabapple Dental is an Alpharetta dental practice that offers laser cavity detection as well as complete dental care. We provide a high level of dental care delivered in a warm and caring atmosphere.
At Crabapple Dental, we believe strongly in preventative dental care. That is why we are proud to offer laser cavity detection. We utilize a new technology, the Diagnodent Laser Scanner, to find super small cavities months or years earlier than they would have otherwise been detected. This early detection allows the flexibility of invisible bonded fillings and helps to preserve healthy tooth structure. In addition, it gives a precise, reliable measurement that can help us to monitor tooth areas that are at risk.
Dental Cavity Detection
If you are looking for a dental practice that offers dental cavity detection, call Crabapple Dental. Using the latest technology, we are able to detect early cavities in our patients so they can be treated appropriately. Should a cavity be detected, we can provide a natural looking dental filling to strengthen the tooth and prevent further decay and even tooth loss.
In addition to laser cavity detection, Crabapple Dental also offers a full range of general, restorative and cosmetic dental procedures. Our passion is creating the smile you were meant to have, one that is attractive, confident, and beautiful!
For the best dental care in Crabapple, contact our Alpharetta Laser Cavity Detection Experts at Crabapple Dental. Our practice is currently accepting new patients and we would welcome the opportunity to serve you or a member of your family. If you have dental insurance, we are happy to file dental insurance claims on your behalf. We look forward to helping you achieve an attractive, confident, beautiful smile!