Non-Surgical Smile & Facial Rejuvenation For A Younger Appearance
A non-surgical smile and facial rejuvenation is an alternative to intrusive cosmetic treatments that don't always address the underlying issues impacting facial youthfulness. The teeth affect the positioning and appearance of the lips, jowls, chin and skin around the lower face. Changes typically occur because of natural wear-and-tear on the teeth or an injury to the mouth.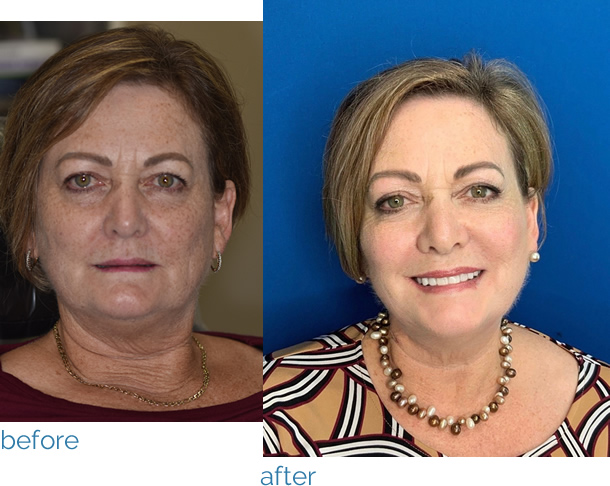 As we age, teeth wear down naturally or from a condition known as bruxism, which causes sufferers to grind their teeth during the night. Eventually, tooth wear will begin to show in your lower facial features. Lips become thinner, lines start to form around the mouth and jowls will form. Rather than paying for extensive and intrusive surgeries, a non-surgical facial rejuvenation can restore youthfulness.
What is a Smile & Facial Rejuvenation?
A smile and facial rejuvenation is essentially a restorative procedure. By returning the teeth to their natural orientation, shape and size, facial features are also restored to their original position. The process will not only enhance your smile but reduce the effects of aging. A more oval-shaped face looks naturally younger and is achievable with this procedure. Crabapple Dental offers a smile and facial rejuvenation to patients who prefer a less intrusive option for restoring youthfulness.
Book a Consultation Today
If you would like to discuss the benefits of a non-surgical smile and facial rejuvenation, call our offices today to book a consultation. Crabapple Dental is committed to promoting education that helps patients maintain optimum dental health. Non-surgical options for restoring teeth and natural facial anatomy are designed to enhance function, aesthetics and general well-being.
Reach out if you have any further questions or would like to register as a new patient with Crabapple Dental. Our team is happy to provide any information you need over the phone.