About Crabapple Dental
Crabapple Dental is a comprehensive dental practice located in Alpharetta, Georgia. We provide preventative, general, restorative and cosmetic dentistry for the residents of Alpharetta and the surrounding areas. Our practice is comprised of an accomplished dentists, Dr. Sarah Roberts, Dr. Christian Hahn, and a committed team of dental support staff. Our dentist and staff are deeply committed to the dental health of each and every one of our patients and our goal is to personally and professionally care for your unique needs. Our passion is creating the smile you were meant to have, one that is attractive, confident, and beautiful!
At Crabapple Dental, our promise is to provide comfortable, attentive and state-of-the-art dental care. Our success is measured by your satisfaction, and we guarantee satisfaction on all of our work. Whether you come into our office for a major dental procedure or for a simple dental cleaning and exam, you will be treated with the utmost care and respect. Our patients appreciate our state-of-the-art dental office featuring the latest technology including laser cavity detection, an intra-oral camera and networked computers.
For expert dental care in Alpharetta, GA, you can count on the professionals at Crabapple Dental. From preventative care to major mouth restorations, you can count on us to utilize the latest technologies and techniques to deliver the highest level of care. Our professionally trained, caring and courteous staff is here to take care of all your dental needs. For the safety and comfort of our patients, we offer mercury free dentistry and painless anesthesia. We also accept dental emergencies and perform most dental procedures in the comfort of our dental office.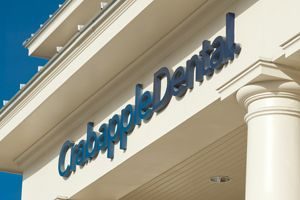 If you live in 30004 or the surrounding areas and are looking for a dentist you can rely on for all of your dental care, please contact our Crabapple Dentists to schedule an appointment. Our practice is currently accepting new patients and we would welcome the opportunity to care for you and your family. If you have dental insurance, we will work with you to help you make the most of your coverage. We look forward to helping you achieve an attractive, confident, beautiful smile!