Dental Implant Restoration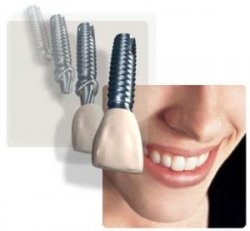 Crabapple Dental is a comprehensive dental practice that provides dental implant restoration as well as complete dental care for the residents of Alpharetta and the surrounding areas. We work hard to provide high quality restorative dental care delivered in a warm and caring atmosphere.
At Crabapple Dental, our passion is creating the smile you were meant to have, one that is attractive, confident and beautiful. If you have an existing implant that needs to be repaired, we can help. Our dentists have had extensive experience in restoring dental implants. Using the latest technology, state-of-the-art instruments and high quality materials, we can provide you with the necessary repair and restoration of your dental implant.
Excellence in Implant Dentistry
If you are in need of an implant restoration, call Crabapple Dental to schedule a complimentary smile consultation to discuss your current implant issues. The placement of dental implants involves inserting prosthetic anchors into a patient's jawbone to take the place of missing tooth roots. Once the jawbone has healed and the anchors are securely in place, crowns or bridges may be placed over the implants to replace missing teeth. This revolutionary tooth replacement system has enabled many patients with missing teeth to once again eat, laugh and smile with confidence. Crabapple Dental is pleased to repair patients existing dental implants that may have come loose over time or because of a trauma to the mouth.
If you are interested in dental implant restoration or repair, contact our practice today. We are currently accepting new patients and we would welcome the opportunity to serve you or a member of your family. If you have dental insurance, we are happy to file dental insurance claims on your behalf. We look forward to helping you achieve an attractive, confident, beautiful smile!