Invisalign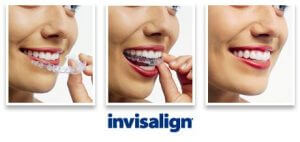 Crabapple Dental offers Invisalign™ invisible braces to the residents of Alpharetta and the surrounding areas. We are a full service dental practice located in downtown Crabapple. Our passion is creating the smile you were meant to have, one that is attractive, confident, and beautiful!



If your teeth need straightening but you do not want to wear traditional braces with unsightly bands, brackets and wires, Invisalgn™ invisible braces may be a good solution for you. Invisalign™ uses a series of clear removable aligners to invisibly straighten your teeth over time. A typical Invisalign™ case takes about a year from start to finish, although treatment time will vary from case to case. Crabapple Dental is pleased to be able to provide the Invisalign™ system to patients in Alpharetta and the surrounding areas.
Invisalign™ Dentist
If you are looking for a dentist who offers Invisalign™ braces as well as comprehensive exams and diagnosis, call Crabapple Dental. Do you desire straight teeth but do not want to draw attention to your mouth while you are in treatment? If so, we can help. Using the Invisalign™ system, we are able to give patients the smiles they have always wanted. The best part is that no one will have to know you are wearing braces at all, unless you decide to tell them. The Invisalign™ aligners are removable so you can eat, drink, brush and floss as usual.
Invisalign™ Invisible Braces
For Invisalign™ invisible braces, contact our Alpharetta Invisible Braces Specialists at Crabapple Dental. Our practice is currently accepting new patients and we would welcome the opportunity to serve you or a member of your family. If you have dental insurance, we are happy to file dental insurance claims on your behalf. We look forward to helping you achieve an attractive, confident, beautiful smile!
---
Preview Your Straight Smile From Your Smartphone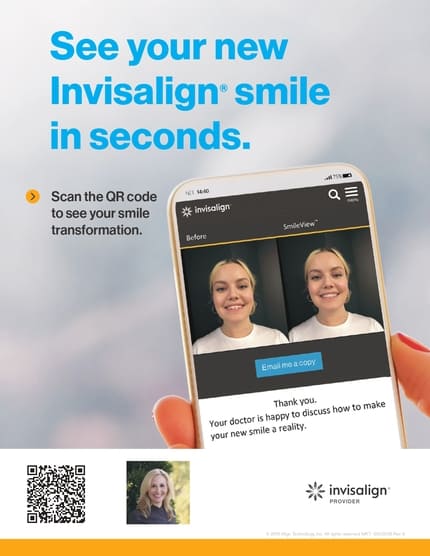 Click to open in full sizeMore than ever before, we can appreciate what modern technology can do for us from the comfort of our home. In terms of Invisalign orthodontics, we have advanced technology that offer a sneak peek into what your smile can look like before you ever begin treatment. By simply sending us a smiling selfie, the Invisalign® SmileView™ can simulate your new smile and help you feel more confident with going forward in your orthodontic treatment.
We know that patients can be hesitant to invest in Invisalign, especially as adults. While we know that straight teeth foster a healthier mouth, many patients still need assurance about the cosmetic improvement that Invisalign offers. Invisalign® SmileView™ is the perfect solution. Without leaving your home, Crabapple Dental allows you to quickly see how Invisalign can transform your crooked or gapped teeth into a beautiful, straight smile.
The Invisalign® SmileView™ Process is Easy
Simply use the provided QR Code and your mobile phone and complete the following steps:
Open your phone camera and hover over the QR Code image.

Click the popup link that appears on your screen.
Line up a selfie of you smiling.
Check the box that verifies you are over 13 years of age.
Fill in your information while the app creates your new smile.
Feel free to drag the line across the picture to capture the progressive transformation.
Imagine yourself showing off that new smile!
Seeing is Believing! Try on Your Invisalign Smile Today.