Alpharetta Periodontal Disease Treatment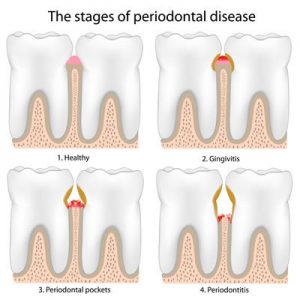 Crabapple Dental provides periodontal disease treatment for the residents of Alpharetta and the surrounding areas. We are a comprehensive dental practice consisting of an experienced dentists, Dr. Sarah Roberts, Dr. Christian Hahn, and a committed team of dental support staff. Our practice offers a high level of dental care delivered in a warm and caring atmosphere.
Periodontal disease involves a chronic bacterial infection that affects the gums and the bones supporting the teeth. If left untreated, periodontal disease can lead to serious dental health problems. In fact, periodontal disease is the most common cause of tooth loss among American adults. Treatment for periodontal disease ranges from professional deep cleaning and medications to oral surgery, depending on the severity. Our dentists are experienced and highly trained to treat all different types of periodontal disease.
Gum Disease Dental Care
If you suffer from gum disease and are looking for a dentist you can trust to provide dental care, call Crabapple Dental. Our practice treats gum disease and also provides preventative care to prevent it from occurring. Our passion is creating the smile you were meant to have, one that is attractive, confident, and beautiful! We do this by utilizing the latest technology, state-of-the-art instruments and high quality materials. If you are suffering from periodontal disease, let our experts at Crabapple Dental provide treatment that will restore both the form and function of your smile.
The residents of Roswell and the surrounding areas can trust Crabapple Dental provide periodontal disease treatment as well as complete dental care. Our practice is currently accepting new patients and we would welcome the opportunity to care for you or a member of your family. If you have dental insurance, we are happy to file insurance claims on your behalf. Contact our Alpharetta Periodontal Disease Treatment Experts at Crabapple Dental today. We look forward to helping you achieve a healthy, confident, beautiful smile!
Click on any of the links below to watch a video and learn more about each topic.