Comprehensive Exams and Diagnosis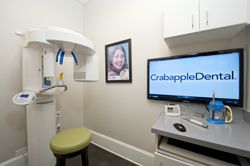 Crabapple Dental provides comprehensive exams and diagnoses for patients from Alpharetta and the surrounding areas. We are a full service dental practice located in downtown Crabapple. Our dental practice provides high quality preventative, general, restorative and cosmetic dental care delivered in a warm and caring atmosphere.
Our dental exams start out with a professional dental cleaning performed by one of our experienced dental hygienists. After your teeth have been cleaned, we will perform a thorough inspection of your teeth and gums. During this inspection, we will look for signs of any oral health problems including gum disease, tooth decay, infection or oral cancer. If X-rays are needed, they will also be taken at this time.
For expert teeth exams in Crabapple, trust the professionals at Crabapple Dental. We use the latest technology including laser cavity detection to deliver the highest level of dental care for all of our patients. In addition to dental exams, we also offer a full range of dental care including fillings, extractions, root canals, crowns/bridges, dental implants and cosmetic dentistry. If any issues are detected during a dental exam, we can provide the care you need to restore the form and function of your teeth. Our passion is creating the smile you were meant to have, one that is attractive, confident and beautiful!
If you are in need of a dental examination, contact our Alpharetta Dental Exams Professionals at Crabapple Dental today to schedule an appointment. Our practice is currently accepting new patients and we would welcome the opportunity to care for you and your family. We are also happy to file dental insurance claims on your behalf. We look forward to helping you achieve an attractive, confident, beautiful smile!