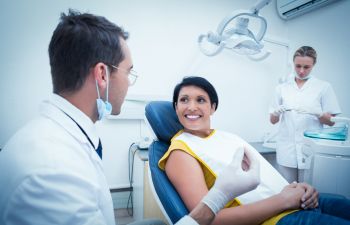 Dental implants are a revolutionary opportunity in terms of teeth replacement. Not only do they replicate your natural teeth better than any other option, they also carry a remarkable success rate of over 98%! However, dental implants do require oral surgery. They are more invasive than simply getting a bridge or dentures. Therefore, there is a period of healing and recovery that must be carefully considered.
Dental implants involve a surgical procedure to insert a small titanium post (or posts) into the jawbone. Over time, the implant fuses to the surrounding bone and forms a secure foundation for your prosthetic tooth on top. Dental implants are a permanent solution for teeth replacement, and they stimulate your jawbone so that bone loss is avoided. While there are multiple stages in the process of getting dental implants, the healing period after your initial surgery is one of the most important. If your implants don't heal properly, they may fail to provide a stable support system for your replacement teeth.
Here are five tips to ensure your healing and recovery from dental implants is positive:
Do Not Smoke

Smoking nicotine can significantly compromise your healing process. It constricts the veins and limits the amount of oxygen your oral tissues receive for healing and repair. Smoking as well as excessive alcohol use can slow and hinder healing after dental implants. You will be asked to stop smoking for a period of time before your implant surgery as well.

Eat Healing Foods

There are certain foods and nutrients that your body needs for ideal healing. Fueling your body with protein, calcium and lots of fruits and vegetables is important after any type of surgery. This works to boost your immune system, which can be weakened when your body is trying to heal itself after a surgical procedure. You'll need a strong immune system to keep out infection from the site of the implants. Smoothies are an excellent choice for the first week or more after your dental implant surgery.

Rinse with Warm Salt Water

Salt water rinses are a time-tested and highly effective natural therapy for healing, especially within the mouth. A gentle rinse with lukewarm salt water can eradicate bacteria without irritating the surgical site. Plus, the body can use salt as a healing nutrient!

Apply Cold Compress

Minimal swelling and bruising can be expected after dental implant surgery. Simply applying a cold compress to the cheek or swollen area can help dramatically. A cycle of 15 min on and 15 min off can be used alongside your recommended medications for pain.

Do Not Forget to Rest

The body needs extra sleep when it is generating extra energy to heal itself. You should avoid strenuous exercise for a certain number of days, but also allow yourself to get more rest than usual. Consider your laziness as a pathway for your mouth to heal faster!
Have more questions about your post-operative healing period after dental implant surgery? We'd love to answer them. Dr. Roberts is an esteemed implant dentist who uses the latest techniques in restorative dentistry. Schedule your consult today!
Posted on behalf of Crabapple Dental
12670 Crabapple Road, #110
Alpharetta, GA 30004
Phone: (678) 319-0123
Email: drsarah@crabappledental.com
Monday: 7:30 AM – 4:00 PM
Tuesday: 9:00 AM – 5:00 PM
Wednesday: 7:30 AM – 4:00 PM
Thursday: 7:30 AM – 3:00 PM
Friday: 7:30 AM – 3:00 PM