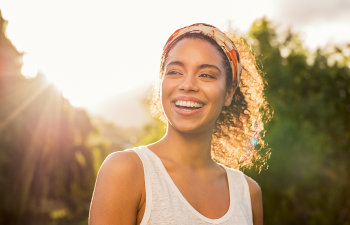 If you're seeking a minimally invasive, painless, and incredibly effective way to achieve your dream smile, we invite you to consider DURAthin veneers at Crabapple Dental. These ultra-thin porcelain veneers are one of the most highly sought-after cosmetic dental services available – and for many valued reasons.
What Are DURAthin Veneers?
DURAthin Veneers are the epitome of artistry and innovation in cosmetic dentistry. These veneers are uniquely crafted from ultra-thin porcelain material, measuring approximately 0.2mm in thickness. To put it in perspective, this is about half the thickness of traditional veneers. Despite their slim build, DURAthin Veneers are renowned for their strength, durability, and lifelike appearance.
The Unique Benefits of DURAthin Veneers:
1. Minimal Tooth Reduction:
Unlike traditional veneers that may require significant enamel removal, DURAthin Veneers are designed to preserve your natural tooth structure. In most cases, minimal to no tooth reduction is necessary, making the process reversible, should you decide to remove them in the future.
2. Non-Invasive Procedure:
For individuals who prefer a conservative approach to cosmetic enhancements, DURAthin Veneers are a dream come true. The procedure is entirely non-invasive, eliminating the need for anesthesia or discomfort. Our skilled dentists will simply bond the veneers directly to the front surface of your teeth, delivering an instant transformation with minimal fuss.
3. Natural-Looking Results:
The artistic finesse of our dental professionals ensures that DURAthin Veneers blend seamlessly with your natural teeth. The thinness of the porcelain allows for a translucent quality, mimicking the light-reflecting properties of real teeth. Say goodbye to imperfections, discoloration, or gaps and welcome a stunning, flawless smile that looks entirely authentic.
4. Stain-Resistance:
Porcelain is naturally resistant to stains, meaning your DURAthin Veneers will maintain their brilliance for years to come. While it's still essential to maintain good oral hygiene habits, you can enjoy your favorite beverages and foods without worrying about discoloration.
5. Quick and Convenient:
DURAthin Veneers are a fantastic option for those seeking a rapid smile makeover. The entire process, from consultation to final placement, can often be completed in just a few visits, giving you the smile of your dreams in a timely manner.
6. Versatility and Customization:
Whether you desire a complete smile makeover or a subtle enhancement, DURAthin Veneers offer unparalleled versatility. Our team will work closely with you to design veneers that match your unique preferences and facial features, creating a customized smile that complements your personality.
7. Boosted Confidence:
The transformative power of a radiant smile cannot be overstated. With DURAthin Veneers, you'll experience an undeniable boost in self-confidence. You'll find yourself sharing your smile freely and feeling more at ease in both professional and social settings.
At Crabapple Dental, we believe that everyone deserves to love their smile. With DURAthin Veneers, we can achieve remarkable results while preserving the integrity of your natural teeth. Our experienced dentists and state-of-the-art technology ensure that you receive the highest level of care throughout your smile transformation journey.
Are you ready to unlock the beauty of your smile with DURAthin Veneers? Schedule a consultation with Crabapple Dental in Alpharetta today, and let our expert team craft the smile you've always dreamed of.
Posted on behalf of Crabapple Dental
12670 Crabapple Road, #110
Alpharetta, GA 30004
Phone: (678) 319-0123
Email: drsarah@crabappledental.com
Monday: 7:30 AM – 4:00 PM
Tuesday: 9:00 AM – 5:00 PM
Wednesday: 7:30 AM – 4:00 PM
Thursday: 7:30 AM – 3:00 PM
Friday: 7:30 AM – 3:00 PM