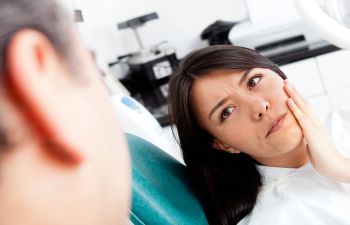 Recent reports show that 1 in 3 Americans did not go to the dentist in 2013. When it comes to oral health, everyone is different, but there are a few commonalities that are often times ignored by a majority of dental patients. The mouth has been referred to as a window to the body. If this is true, it is important to pay attention to some symptoms that are often overlooked. If you find yourself experiencing any of the following issues, contact Dr. Sarah Roberts or your dentist right away.
Do you have a struggle with chronic bad breath?

If you have relatively good brushing and flossing habits and your breath is consistently offensive there is most likely something more serious happening in your mouth. Bad breath can stem from advanced gum disease. Regular flossing is vital to maintaining good breath and healthy gums.

Are your gums tender or swollen?

If you have swollen or tender gums, some form of gum disease is most likely the culprit. Gums that bleed are a sign of gingivitis or advanced gum disease. Another symptom of gum disease is discolored gums. Don't ignore your gums when brushing daily and be sure to floss to help reduce the likelihood of gum disease.

Is the enamel on your teeth eroding?

If the enamel on your teeth begins to erode, problems are right around the corner. Acidic foods are the main cause of enamel erosion. Stomach acids from problematic reflux also pose a significant erosion problem.

Does your mouth burn and hurt all of the time?

Burning Mouth Syndrome is not as common as the other symptoms mentioned here. However, BMS is a very real problem for some people. Common reasons for BMS include nutritional deficiencies, fungal infections in the mouth or hormone changes in women.

Do you constantly have a sour taste in your mouth?

A persistent sour taste in your mouth may be caused from GERD  – gastro esophageal reflux disease. GERD can cause problems such as enamel erosion, heartburn, hoarse voice, sore throat, ulcers and inflammation in the esophagus. It is important to see a doctor so they can help manage the symptoms of this disease.

Dry mouth can be a real problem.

There is always a root to the cause of dry mouth, so it is important not to ignore dry mouth. Dry mouth can be an indicator of bigger problems including diabetes, rheumatoid arthritis, scleroderma, systemic lupus erythematosus and Sjogren's syndrome. Dry mouth can lead to problems for your mouth and teeth.
These are not the only symptoms that are cause for concern. Anytime something out of the ordinary is going on in your mouth, it is important to see your dentist. If you have any questions regarding your oral health, call Dr. Sarah Roberts at Crabapple Dental.
Posted on behalf of Crabapple Dental
12670 Crabapple Road, #110
Alpharetta, GA 30004
Phone: (678) 319-0123
Email: drsarah@crabappledental.com
Monday: 7:30 AM – 4:00 PM
Tuesday: 9:00 AM – 5:00 PM
Wednesday: 7:30 AM – 4:00 PM
Thursday: 7:30 AM – 3:00 PM
Friday: 7:30 AM – 3:00 PM