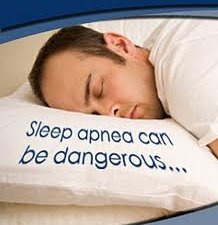 Are snoring and waking up hundreds of times throughout the night part of your nightly routine? If so, you may have a common problem called Sleep Apnea. If you are single, you may not even be aware of your snoring and waking. If you have a partner, you are most likely aware as this can be very disruptive to your partner's sleep as well as your own. However, Sleep Apnea is far more serious than just a simple nuisance. If not properly diagnosed and treated, it can be dangerous and even life-threatening.
Sleep Apnea has been associated with a number of serious health conditions including hypertension, heart attacks and strokes. Millions of Americans currently suffer from Sleep Apnea. What is more concerning is the fact that an estimated 81% to 95% of Sleep Apnea sufferers are not diagnosed.
In the past, CPAP machines were the only effective method for treating Sleep Apnea. While these machines are highly effective, many patients found them to be  unwieldy, awkward, cumbersome and uncomfortable. Thankfully, today there are a number of effective alternatives to CPAP than can be used to treat Sleep Apnea.
If you think you may be suffering from Sleep Apnea, the first step is to obtain a proper diagnosis. This can be achieved by participating in a sleep study. A sleep study is where your sleep is filmed and closely monitored for an entire night. The results of your sleep study are then interpreted by a sleep specialist (a doctor who specializes in treating sleep disorders). Once you have a proper diagnosis, your doctor and dentist can work together to find the most suitable treatment or combination of treatments. Many dental offices now offer custom-made appliances that can be worn in the mouth at night during sleep. These custom-made mouth appliances are much more comfortable than the CPAP machine but are also effective in preventing Sleep Apnea.
If you have Sleep Apnea, you are losing more than your sleep! Talk to your dentist today and find out about the treatments that are available to help you treat this serious condition.
Posted on behalf of Crabapple Dental
12670 Crabapple Road, #110
Alpharetta, GA 30004
Phone: (678) 319-0123
Email: drsarah@crabappledental.com
Monday: 7:30 AM – 4:00 PM
Tuesday: 9:00 AM – 5:00 PM
Wednesday: 7:30 AM – 4:00 PM
Thursday: 7:30 AM – 3:00 PM
Friday: 7:30 AM – 3:00 PM