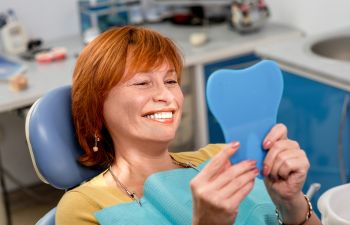 Getting older can be hard, especially when it comes to watching the changing appearance of the face. Wrinkles, fine lines and sagging skin are common signs of an aging face. However, before you resort to expensive plastic surgery to turn back the hands of time, we invite you to consider what a modern dentist can do. You may be surprised at how your worn down, stained or disproportioned teeth can influence facial aging.
It may be easy to understand how missing teeth influence how old a person looks. However, even habits like teeth grinding can expedite the loss of muscle tone in the lower face and contribute to the lengthening of lips, chin recess and sagging skin/jowls.
At Crabapple Dental, we offer dental services that help prevent, delay or even reverse the signs of facial aging that are triggered due to damage to the teeth and surrounding oral tissues. We call this our "Nonsurgical Facial Rejuvenation", a restorative procedure that can be performed in the comfort of our Alpharetta office.
When addressing tooth related issues to regain a more youthful appearance, we consider the following:
Treating Gum Recession
Repositioning the Teeth
Teeth Whitening
Dental Implants (Teeth Replacement)
Bruxism Treatment
Restoring Damaged Teeth (Crowns/Veneers)
The eating and lifestyle habits you've engaged in over the course of your lifetime will undoubtedly have an impact on your teeth. If stained, shifted or worn down teeth are contributing to your facial aging, we can help. Call Crabapple Dental today to learn more about how returning your teeth to their natural orientation can take years off the shape, size and features of your face. This may be the painless and affordable solution you need to look and feel younger!
Posted on behalf of Crabapple Dental
12670 Crabapple Road, #110
Alpharetta, GA 30004
Phone: (678) 319-0123
Email: drsarah@crabappledental.com
Monday: 7:30 AM – 4:00 PM
Tuesday: 9:00 AM – 5:00 PM
Wednesday: 7:30 AM – 4:00 PM
Thursday: 7:30 AM – 3:00 PM
Friday: 7:30 AM – 3:00 PM