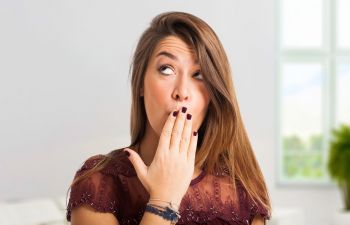 Do you struggle with bad breath? Do you rely on mints or chewing gum to get you through the day? Bad breath, also called halitosis, can be a major turn off as well as a threat to your career if it persists. Chronic halitosis is more than just stinky garlic breath after eating Italian. According to Colgate, as much as 60 million people in the United States suffer from chronic halitosis.
Bad breath may be a sign of an underlying oral health issue that needs to be treated. Therefore, rather than covering up or masking your breath odor with mints, it is best to discuss halitosis treatment with your dentist. There are a number of different culprits to your struggle with bad breath, including the following:
Poor Oral Hygiene: Millions of bacteria live in your mouth. When bacteria is allowed to linger or accumulate, it feeds on the leftover food particles and produces a foul-smelling sulfur compound. Strong brushing and flossing efforts are needed to ensure this doesn't happen. It is critical that you brush all surfaces of your tongue too!
Dry Mouth: Did you know that more than 500 different medications cause dry mouth? Dry mouth is associated with higher levels of bacteria and plaque in the mouth because there is less saliva to rinse it away.
Severe Decay or Infection: When an area of tooth decay goes untreated, it can produce a bad odor. Likewise, when there is an infection in the mouth, either gum disease or an abscess, halitosis can be a symptom.
These are just a few of the most common reasons for bad breath. Your treatment may be as simple as brushing your tongue more often. Some patients may need to find ways to combat dry mouth, while others may need periodontal treatment for gum disease. In all cases, sucking on peppermints or using breath spray won't remedy the issue at its source. In fact, sugary mints can actually make bad breath worse in the long run.
For effective halitosis treatment from a team of caring dentists, call Crabapple Dental. We want our patients to be fully confident in their smile, which includes maintaining fresh breath!
Posted on behalf of Crabapple Dental
12670 Crabapple Road, #110
Alpharetta, GA 30004
Phone: (678) 319-0123
Email: drsarah@crabappledental.com
Monday: 7:30 AM – 4:00 PM
Tuesday: 9:00 AM – 5:00 PM
Wednesday: 7:30 AM – 4:00 PM
Thursday: 7:30 AM – 3:00 PM
Friday: 7:30 AM – 3:00 PM