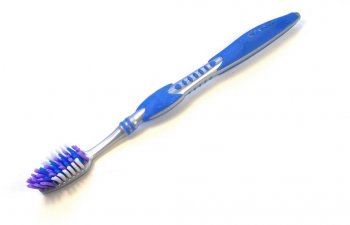 Your toothbrush is a tool that you use to clean your mouth. however, have you ever stopped to think about how clean your toothbrush really is? If you are using a dirty, old toothbrush, the chances of it doing a good job cleaning your teeth are pretty slim.
Here are helpful tips in caring for your toothbrush so that it cares for you:
Rinse your toothbrush well after each use. Your toothbrush is designed to help brush away bacteria-laden plaque from your teeth. As you brush your teeth, plaque will become trapped in the bristles of your toothbrush. In order to prevent putting this same plaque back into your mouth, it is necessary to rinse your toothbrush well under fast, running water after each use. This will help to remove plaque and food particles that are trapped inside the bristles and clean your toothbrush before its next use.
Store your toothbrush upright, allowing it to air dry. As with all bacteria, oral bacteria thrive in moist conditions. By storing your toothbrush in an upright position, it will dry faster, eliminating the likelihood for bacterial growth. It is also essential that you keep your toothbrush uncovered so that it will air dry as fast as possible. If you must cover your toothbrush for travel, wait until your toothbrush is fully dry before packing; or, better yet, have a separate toothbrush that you use while traveling.
Keep your toothbrush away from the toilet. In bathrooms where there is not a door separating the toilet from the rest of the room, it is essential that you keep your toothbrush as far away from the toilet as possible. Overspray occurs each time you flush the toilet, spreading urine and fecal matter into the air. You do not want it landing on your toothbrush!
Do not share your toothbrush. Remember, a toothbrush removes bacteria-laden plaque from the mouth. If you are sharing a toothbrush, you are putting someone else's plaque into your mouth – and that is just plain gross.
Replace your toothbrush often. The American Dental Association recommends replacing your toothbrush every 3-6 months. If you have ever wondered why you receive a new toothbrush at every dental visit, it is because your dentist understands how important it is to use a clean tool to clean your mouth.
Replace your toothbrush after illness. Germs can linger for a week or longer. If you have been ill with a cold, the flu, strep, a stomach bug, or any other illness, remember to replace your toothbrush so that you do not re-infect yourself.
At Crabapple Dental, we want to help our patients achieve the healthiest smile possible. Call today to schedule an appointment.
Posted on behalf of Crabapple Dental
12670 Crabapple Road, #110
Alpharetta, GA 30004
Phone: (678) 319-0123
Email: drsarah@crabappledental.com
Monday: 7:30 AM – 4:00 PM
Tuesday: 9:00 AM – 5:00 PM
Wednesday: 7:30 AM – 4:00 PM
Thursday: 7:30 AM – 3:00 PM
Friday: 7:30 AM – 3:00 PM