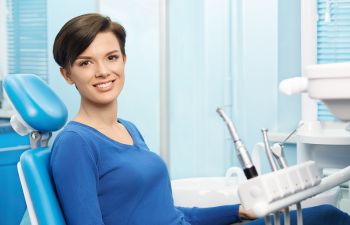 The definition of cosmetic dentistry is any dental work that improves the appearance of a person's teeth or bite, though not necessarily the function of either. There are many dental procedures that fall under the cosmetic dentistry umbrella, and Dr. Sarah Roberts of Crabapple Dental is proud to be the area's leading cosmetic dentist by offering many aesthetic improvements to improve her patients' smiles. Crabapple Dental is located in downtown Crabapple and serves the residents of North Fulton, East Canton, Forsyth, and other neighboring communities. We provide a high level of cosmetic dental care delivered in the most comfortable and caring atmosphere.
Many patients wish that they had straight, complete, and bright smiles. Teeth that are chipped, broken, missing, misaligned, stained, or otherwise unattractive can cause people to feel extremely self conscious. At Crabapple Dental, our passion is creating the smile that our patients were meant to have – one that they are proud to show off. Dr. Sarah Roberts has trained with some of the world's most prominent cosmetic dental specialists, and she is quickly becoming one of Georgia's leading cosmetic dentists. Her credentials and personalized attention to her patients have helped her to be voted among "America's Top Dentists" since 2009. We offer a full range of cosmetic dental services including Invisalign, porcelain veneers, teeth whitening, Botox treatments, cosmetic dermal fillers, and more to enhance the beauty of your smile.
If you are unhappy with your smile's appearance and looking for a dental practice that offers cosmetic dentistry, please contact Crabapple Dental today. We are a comprehensive dental practice that focuses on the health and beauty of our patients' smiles, and we serve patients of all ages. We look forward to helping you achieve an attractive, confident, healthy smile.
Posted on behalf of Crabapple Dental
12670 Crabapple Road, #110
Alpharetta, GA 30004
Phone: (678) 319-0123
Email: drsarah@crabappledental.com
Monday: 7:30 AM – 4:00 PM
Tuesday: 9:00 AM – 5:00 PM
Wednesday: 7:30 AM – 4:00 PM
Thursday: 7:30 AM – 3:00 PM
Friday: 7:30 AM – 3:00 PM