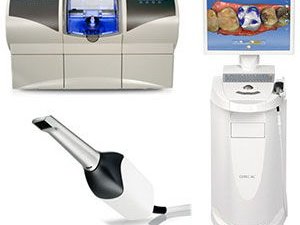 A dental crown is the most proven solution for restoring a tooth that has extensive decay or damage. These are times when a dental filling is not enough to repair the tooth. A crown serves as a protective cap for the tooth, covering all visible surfaces of the affected tooth with materials that look, feel and function like a natural tooth.
In the past, getting a dental crown meant enduring multiple dental visits, getting a messy impression and wearing a subpar temporary crown until the permanent crown was ready. Today, things are much different. By choosing a modern dental practice, such as Crabapple Dental, patients have access to dental crowns in a single visit. Same Day dental crowns are made possible through CEREC technology.
The CEREC system offers 3D images, advanced design software and an on-site milling machine that fabricates a custom crown in just minutes. This brings invaluable advancement to the field of restorative dentistry as well as highlighted benefits for the patients who need it.

If you answer yes to any of the following questions, CEREC Same Day Dental Crowns may be right for you:
Are you tight on time?
CEREC crowns only take just one visit. You won't have to make multiple trips back to the dentist and your single appointment doesn't even last that long.
Do you suffer from dental anxiety?
Same day crowns are perfect for those that have dental fear or dental anxiety. The CEREC approach is less-invasive, more comfortable and involves less injections.
Is preserving healthy tooth structure important to you?
Using CEREC technology, your dentist can make more accurate restorations, which means less of your healthy tooth structure needs to be removed in order to place the crown.
Are you unwilling to sacrifice on quality?
Don't worry; just because you are getting your permanent crown immediately doesn't mean you are choosing convenience over quality. CEREC crowns are made of strong compressed porcelain and durable for long-lasting dental function.
Do you want a crown that looks and feels natural?
Your dentist will still be able to choose the color, shape and form of your dental crown to match your existing smile. CEREC crowns are known for their seamless blend.
Want to learn more about what Same Day Dental Crowns involve? We are happy to tell you. At Crabapple Dental, we proudly offer the latest technology in modern dentistry – which provides a welcome improvement towards patient comfort and convenience.
Posted on behalf of Crabapple Dental
12670 Crabapple Road, #110
Alpharetta, GA 30004
Phone: (678) 319-0123
Email: drsarah@crabappledental.com
Monday: 7:30 AM – 4:00 PM
Tuesday: 9:00 AM – 5:00 PM
Wednesday: 7:30 AM – 4:00 PM
Thursday: 7:30 AM – 3:00 PM
Friday: 7:30 AM – 3:00 PM