Meet Dr. Christian Hahn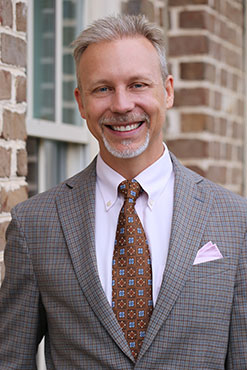 Christian W. Hahn, DDS, AAACD
Dr. Christian W. Hahn, a Biological Cosmetic Dentist, delivers Life Enhancing Dentistry using a less invasive, more conservative approach. He accomplishes this by combining scientific, functional Dentistry with the wisdom of a more holistic, natural approach. Dr. Hahn's ultimate goal is to help patients achieve optimal health.
Dr. Hahn's techniques and philosophies have been shared to hundreds of dentists who attend his lectures and seminars, which not only teach them how to dramatically improve the quality of dental care, but also how to find more happiness and joy in their career.
Dr. Christian W. Hahn is one of under 300 Accredited Cosmetic Dentists in the World and believes that your smile is one of your best assets. His dentistry has been featured on TLC (the learning channel) and is published internationally in peer-reviewed journals. In his episode, Leslie's Beautiful Smile, Dr. Hahn chose to help a waitress that had a broken smile receive the smile of her dreams. The entire process and the life changing transformation was documented for millions of viewers, making Dr. Hahn one of the smile makeover authorities in his field.
Dr. Hahn has practiced Biological Dentistry for over 20 years and currently is an educator in the field, lecturing on the subject of Zirconia Implants. He has devoted his professional career to helping patients not only receive confident, beautiful smiles, but also optimal health. As a clinician, Dr. Hahn is at the cutting edge of Biological Dentistry, placing Zirconia Implants as well as incorporating Functional Medicine, Health Optimization and Biohacking into his practice.
When not practicing Dentistry, Dr. Hahn can be found hiking, biking, climbing and exploring nature with his family – he loves traveling the World and living life to the fullest. It is no surprise that he is the author of the book Unbox Yourself, in which he gives readers a roadmap to living a life true to themselves, filled with passion, purpose, happiness and success.
Skills and Specialties

EDUCATION
1992 San Clemente High School Valedictorian
1998 USC School of Dentistry Graduate – Magna Cum Laude
2007 Accredited – American Academy of Cosmetic Dentistry
Dental Implant Selective USC School of Dentistry
Dental Implant Certified
Laser Certified
Invisalign Certified
Botox Certified
Private Mentorship Dr. Nick Davis
Private Mentorship Randy Spelling
KBB (Knowledge Broker Blueprint) Certified
Continued Education Exceeding 1000 Hours
RECOGNITIONS
Christensen Endowment Scholarship
Charles O-Grady Scholarship
Academy of General Dentistry Most Likely To Succeed Scholarship/Award
Patent #6890176, #8448267, #10173103
AACD Charitable Foundation Board of Trustee
Assisted founding of the German Academy of Cosmetic Dentistry
Dental Speaker for the Louisville Naturopathic Physicians Society
International Speaker on Natural and Cosmetic Dentistry
KOL (Key Opinion Leader) Speaker for Coltene
KOL Speaker for Zeramex
PUBLICATIONS
TLC (The Learning Channel) Smile Makeover Episode
Quintessence of Dental Technology – A Challenge to Nature IV with Naoki Hayashi
Quintessence of Dental Technology – A Challenge to Nature V with Naoki Hayashi
Quintessence of Dental Technology – A Challenge to Patients Demands with Naoki Hayashi
Quintessence of Dental Technology Masterpiece Section 2003
Quintessence of Dental Technology Masterpiece Section 2004
German Dental Aesthetics Journal 2004
Indian Dental Aesthetics Journal 2004 and 2005
Quintessence Publications – A Diary Through the Lens with Naoki Hayashi
Author – Unbox Yourself
Author – The Dentists Secret
Author – The Adventures of Pearl White
Dozens of Lectures and Speaking Engagements on Cosmetic Dentistry, Natural Dentistry, Entrepreneurship and Self Improvement
Podcast Interviews – see www.DrChrisHahn.com/