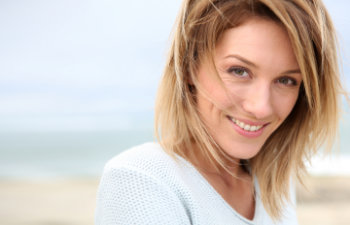 In most cases, "crowns" are associated with royalty, honor and praise. But when you hear that you are getting a "crown" from your dentist, you may not be very excited to receive it. Before you dread or even avoid your dental crown procedure, you should know that, even in dentistry, a crown has esteemed value.
If you have teeth that are severely decayed, damaged or missing, they need restoration. Dental crowns are the most trusted way to do it. In fact, dental crowns are often the best way to rebuild your smile to look, function and feel like it naturally should.
What is a Dental Crown?
A crown or "cap" is a procedure used to restore or repair a tooth that has lost over 50% of its natural structure due to a cavity or due to fracture. The remaining tooth structure is covered entirely by the crown. At Crabapple Dental, we provide our patients with cosmetic tooth colored crowns made of porcelain. Porcelain mimics the color and translucency of natural teeth, while also offering lasting durability.
Why Get a Dental Crown?
Dental crowns are not only an effective and time-tested solution, but they are also quite versatile. Cosmetic crowns can be used restoratively or cosmetically to address a variety of dental concerns, including the following
To strengthen a tooth after significant trauma or severe decay
To restore moderate to severe fractures
As a dental implant restoration
Following a root canal treatment
To correct discolored, misshapen or gapped teeth
CEREC One Day Crowns
When choosing a modern dentist, getting a dental crown can look much different than it did in the past. Crabapple Dental proudly uses CEREC technology to provide one day dental crowns and other restorations. Instead of messy dental impressions, temporary crowns and multiple appointments, CEREC crowns use 3D digital imaging and a chairside milling machine to fabricate your custom crown in just one single visit.
Does your smile need restoration? Trust Crabapple Dental for modern dental treatments in a comfortable setting. We give patients plenty of reasons to proudly accept their crown – even when it involves the dentist.
Posted on behalf of Crabapple Dental
12670 Crabapple Road, #110
Alpharetta, GA 30004
Phone: (678) 319-0123
Email: drsarah@crabappledental.com
Monday: 7:30 AM – 4:00 PM
Tuesday: 9:00 AM – 5:00 PM
Wednesday: 7:30 AM – 4:00 PM
Thursday: 7:30 AM – 3:00 PM
Friday: 7:30 AM – 3:00 PM