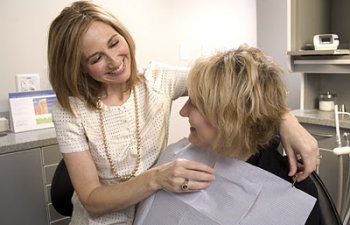 Crabapple Dental provides high quality reconstructive dental procedures to the residents of Alpharetta and the surrounding areas. One of the reconstructive and cosmetic services that we provide is dental bonding. Some patients choose to have dental bonding done as an elective cosmetic procedure that is used to enhance their smiles, while others need to have dental bonding done to repair an injury to a tooth. Cracked and chipped teeth are the most common injuries that are repaired through dental bonding. Dr. Sarah Roberts leads Crabapple Dental, and she and her entire staff are dedicated to restoring our patients' smiles so that they are attractive, confident, and beautiful.
Dental bonding is done by applying a composite resin material to the teeth. For those who are using dental bonding for cosmetic procedures, this material can be used to close gaps between the teeth. For those who have suffered a cracked or chipped tooth, the resin acts like an adhesive to either hold the part of the tooth that was chipped off back into place or the resin will be used to replace the missing portion of tooth. The composite resin material that is used can be color matched so that it blends in naturally with the surrounding teeth. Dental bonding is a highly effective method, and it is relatively painless and usually performed without anesthesia. Dental bonding is one of the most popular choices among parents who have children with a chipped tooth because of the ease of the procedure and the outstanding results.
If you or a family member has a cracked or chipped tooth, or teeth with a gap that you wish to have closed, please contact Crabapple Dental today. We offer expert teeth restoration and are committed to restoring your smile to its full capacity. We are currently accepting new patients and welcome the opportunity to serve you.
Posted on behalf of Crabapple Dental
12670 Crabapple Road, #110
Alpharetta, GA 30004
Phone: (678) 319-0123
Email: drsarah@crabappledental.com
Monday: 7:30 AM – 4:00 PM
Tuesday: 9:00 AM – 5:00 PM
Wednesday: 7:30 AM – 4:00 PM
Thursday: 7:30 AM – 3:00 PM
Friday: 7:30 AM – 3:00 PM