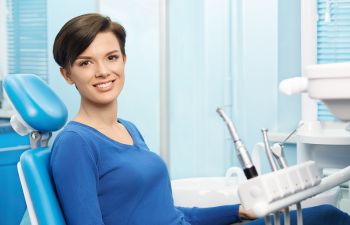 "An ounce of prevention is worth a pound of cure," Benjamin Franklin. This quote is relative to many areas of life, including oral health. Putting in a little effort to prevent a problem means that you will not have to put in a lot of effort to solve the problem. At Crabapple Dental, we believe that preventing dental health issues is key to making a smile last a lifetime. While dental emergencies and injuries will occur, preventing oral health issues is one of the easiest ways to promote the longevity of your smile. Dental sealants are an advanced procedure to protect the teeth from decay. Dental sealants work by "sealing out" plaque and food from the fissures and grooves in the molars. These hard to clean areas are susceptible to decay because food particles get trapped in the tiny fissures, and as they break down harmful acids and bacteria eat away at the tooth enamel.
Dr. Sarah Roberts and the committed team at Crabapple Dental work together to provide a warm and caring environment while providing the highest level of dental care to patients. Dental sealants are a painless procedure where, after a thorough cleaning, a plastic resin material is painted on the back molars and premolars. The plastic is hardened with a special curing light so that the material bonds with the enamel of the teeth, creating a semi-permanent barrier. Dental sealants can last from 2-4 years before reapplication is required. This simple procedure has amazing preventive qualities, and we are proud to offer dental sealants to our patients.
If you are interested in learning more about dental sealants to protect your teeth from decay, call our office or ask about them at your next dental visit. Crabapple Dental is committed to your oral health, and we know that the best way to achieve and maintain a healthy smile is to prevent oral health issues.
Posted on behalf of Crabapple Dental
12670 Crabapple Road, #110
Alpharetta, GA 30004
Phone: (678) 319-0123
Email: drsarah@crabappledental.com
Monday: 7:30 AM – 4:00 PM
Tuesday: 9:00 AM – 5:00 PM
Wednesday: 7:30 AM – 4:00 PM
Thursday: 7:30 AM – 3:00 PM
Friday: 7:30 AM – 3:00 PM