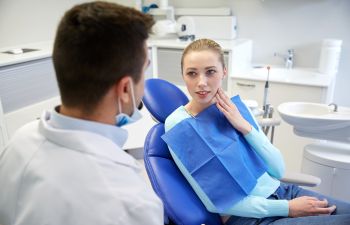 If you are like most patients, you probably don't expect to suffer from a dental problem, especially one requiring immediate care. Yet, accidents happen, even to those with the very best oral care. Thus, it's important to learn about your oral health, and when emergency dental care is necessary. After all—it could mean the difference between saving a tooth or losing a tooth.
If you find yourself experiencing any of the following, a dental visit needs to be scheduled sooner rather than later:
Toothache: While a toothache can range from mild to severe, it's important not to ignore your pain. There are many possible causes of toothaches including cavities, gum disease, abscessed tooth, a cracked tooth, jaw disorder, or even a sinus infection.
Broken, Chipped, or a Knocked-Out Tooth: When a tooth becomes broken, chipped, or knocked-out, time is of the essence. Thus, it's important to call the dentist immediately to schedule an appointment. The dentist will likely provide some tips for preserving the tooth until you arrive at the office.
Broken Jaw: If you suspect that your jaw is broken, whether due to an accident, trauma, or sports-related injury, it's imperative to call the dentist right away. In the meantime, applying ice to the jaw will help reduce inflammation.
Bitten Tongue or Lip: If you have bitten your tongue or lip and bleeding is persistent, call the dentist right away. While treatment may be as simple as applying a cold compress, there are some cases that require additional treatment to prevent infection.
Lost Filling: If you notice that your filling has broken or fallen out, it's important to call the dentist right away. Without the protection of the filling material, your tooth is at risk for infection and decay.
At Crabapple Dental, we understand that dental problems don't always arise at a convenient time. Yet, we want you to know—we are here for you. Whatever your concern, we are accessible and ready to serve you with a caring sense of urgency. Call our Alpharetta dental clinic today to let us know how we can repair your smile and resolve your dental pain.
Posted on behalf of Crabapple Dental
12670 Crabapple Road, #110
Alpharetta, GA 30004
Phone: (678) 319-0123
Email: drsarah@crabappledental.com
Monday: 7:30 AM – 4:00 PM
Tuesday: 9:00 AM – 5:00 PM
Wednesday: 7:30 AM – 4:00 PM
Thursday: 7:30 AM – 3:00 PM
Friday: 7:30 AM – 3:00 PM