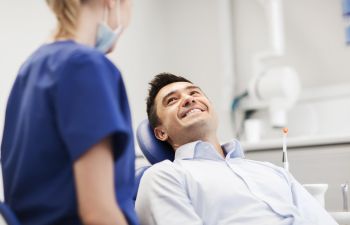 Root canal therapy, or endodontic treatment, is one of the most proven and time-tested procedures in dentistry. Root canals can restore a painful tooth that has been severely infected and would otherwise need to be extracted. Unfortunately, there are still times in which root canal treatment may fail. In such cases, your dentist may recommend endodontic retreatment.
Tooth Abscess After Endodontic Treatment
At Crabapple Dentistry, we understand the notable pain and discomfort that accompanies a tooth abscess. If your root canal has caused a tooth abscess due to infection or disease in the tooth, our root canal retreatment can cure your tooth abscess and give you a functional and healthy tooth for years to come.
When is Endodontic Retreatment Necessary?
Most of the time, a root canal is all that is needed to effectively save a tooth and make it last as long as other natural teeth. However, if your root canal fails to heal and continues to be painful, you may be a candidate for endodontic retreatment. This may occur months or even years after your initial root canal procedure. Endodontic retreatment can help patients that have experienced improper healing due to the following:
Narrow or curved canals that were not treated during the initial procedure
Complicated canal anatomy that went undetected in the first procedure
The crown or other restoration was not placed soon enough after the procedure
The restoration failed to prevent saliva from contaminating the inside of the tooth
Are you concerned that your root canal did not heal properly? Are you experiencing pain on or near the treated tooth? Contact Crabapple Dental. We have the extensive training, advanced equipment and personalized care you need to get the pain relief and tooth restoration you deserve.
Posted on behalf of Crabapple Dental
12670 Crabapple Road, #110
Alpharetta, GA 30004
Phone: (678) 319-0123
Email: drsarah@crabappledental.com
Monday: 7:30 AM – 4:00 PM
Tuesday: 9:00 AM – 5:00 PM
Wednesday: 7:30 AM – 4:00 PM
Thursday: 7:30 AM – 3:00 PM
Friday: 7:30 AM – 3:00 PM