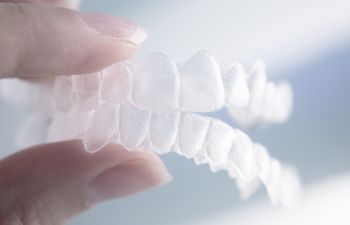 Invisalign has become one of the most preferred ways to straighten your smile without others noticing. Beyond its clear design, Invisalign offers incredible advantages in convenience and comfort, especially since they can be removed to eat, brush and floss.
Whether you are considering Invisalign or currently undergoing this innovative orthodontic treatment, it is important that you understand how to care for your aligners at home. After all, one of the best benefits of Invisalign is that you don't have to visit our office very often, which means your orthodontic treatment process is greatly influenced by what you do at home with your aligners.
Here are some answers to some frequently asked questions regarding Invisalign aligner care:
How Should I Clean My Aligners?
Just like your teeth, you'll need to clean your aligners each day. This saves your breath and also ensures you are not allowing bacteria to cling to your teeth throughout the day. Don't worry; cleaning your aligners is easy. Simply brush them with a soft-bristled toothbrush and non-abrasive toothpaste. Use lukewarm water instead of hot water to preserve the plastic.
Will My Invisalign Aligners Stain?
We recommend brushing your teeth after every meal (or at least rinsing them with water). This is especially important after you've consumed dark-colored foods and drinks that could potentially stain your aligners over time.
What If I Drop My Aligners?
We all get clumsy. If you accidentally drop your aligners, do your best to clean them before you put them back in your mouth. Not doing so could allow bacteria or dirt to get trapped between your aligners and your teeth, which can put your pearly whites at risk for decay.
What Happens if I Lose or Break an Aligner?
While Invisalign allows you to remove your aligners when needed, they should be worn approximately 22 hours of the day and for the full treatment time. Typically, you'll change to a new aligner set every two weeks. If your aligners break or get lost, you should not wait until your next set is scheduled to be put in, as this can delay or disrupt your overall treatment plan. Instead, call your Invisalign provider to get a replacement set of aligners.
Have More Questions About Invisalign?
At Crabapple Dental, we make your Invisalign process as simple as possible. This includes an upfront digital preview of your Invisalign results before you begin as well as ongoing advice on how to maximize your Invisalign treatment at home. We would love to answer your questions – call or email our Alpharetta office today!
Posted on behalf of Crabapple Dental
12670 Crabapple Road, #110
Alpharetta, GA 30004
Phone: (678) 319-0123
Email: drsarah@crabappledental.com
Monday: 7:30 AM – 4:00 PM
Tuesday: 9:00 AM – 5:00 PM
Wednesday: 7:30 AM – 4:00 PM
Thursday: 7:30 AM – 3:00 PM
Friday: 7:30 AM – 3:00 PM