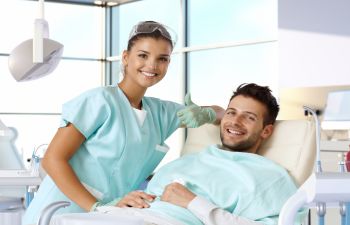 Dental needles or shots are used to numb an area of the mouth so that your dentist can perform treatment. These anesthetic injections are necessary so that you don't feel the discomfort of a dental filling, an extraction or root canal. However, it is common for patients to fear this brief oral "pinch" as much as or more than the dental procedure itself. By choosing a modern dental practice, such as Crabapple Dental, you can gain access to needle-free dentistry. Don't worry; you'll still receive local numbing, but rather than a needle, the anesthetic delivery is with a couple squirts of nose spray!
After 10 years of development and FDA approval in 2016, Kovanaze nasal spray has hit the market as an innovative and highly preferred alternative to dental injections. Kovanaze contains a combination of 3% tetracaine HCl (ester) and 0.05% oxymetazoline HCl (vasoconstrictor). Together, these ingredients work to numb the upper teeth from bicuspid to bicuspid, also referred to as the "smile zone." The delivery is simple and painless and involves sniffing two sprays of a pre-filled applicator before the procedure begins.
The Perks of Using Kovanaze Nasal Spray
Not only will you have the obvious benefit of escaping the discomfort and apprehension of a dental shot, but you can trust the Kovanaze anesthetic to be just as effective. You don't feel anything during the procedure, and the numbing effects will wear off shortly after your appointment. Unlike anesthetic injections, however, patients rarely deal with the tingling sensation in their tongue, lips and cheek – a welcome advantage for those that need to return immediately back to work or school.
While Kovanaze nasal spray is ideal for those with upcoming restorative dental work, it can also be used for those that are avoiding a simple routine cleaning due to sensitive teeth. In addition, children who weigh over 88 pounds may also be a candidate for this unique needle-free dentistry. Kovanaze carries a remarkable success rate and is well-tolerated by patients.
What is stopping you from getting the dental treatments your smile needs and deserves? If it's dental needles, we can help. Call Crabapple Dental today to learn more about how you can get Kovanaze nasal spray for a pain-free and stress-free dental procedure.
Posted on behalf of Crabapple Dental
12670 Crabapple Road, #110
Alpharetta, GA 30004
Phone: (678) 319-0123
Email: drsarah@crabappledental.com
Monday: 7:30 AM – 4:00 PM
Tuesday: 9:00 AM – 5:00 PM
Wednesday: 7:30 AM – 4:00 PM
Thursday: 7:30 AM – 3:00 PM
Friday: 7:30 AM – 3:00 PM