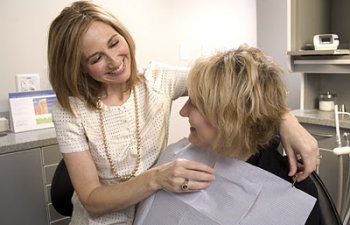 Patients with Type 2 Diabetes are at an increased risk for developing periodontal disease: a chronic infection of the tissues supporting the teeth that can lead to serious dental health problems including tooth loss. Specifically, individuals with poor blood sugar control get gum disease more often and more severely than persons with good blood sugar control. They also lose more teeth.
In a report appearing in the August 2014 issue of the Journal of Leukocyte Biology, B cells (one of the most important blood cells involved in the human immune response) are shown to promote inflammation and bone loss in periodontal disease that is associated with Type 2 Diabetes. These important findings support the idea that treatments that manipulate the response of B cells may treat or prevent this type of periodontal disease.
This study identified common inflammatory mechanisms that are shared by Type 2 diabetes and periodontal disease. According to Dr. Min Zhu, Ph.D., a researcher with the Boston University School of Medicine in Boston Massachusetts, "These findings pave the way for the development of novel therapeutics which aim to simultaneously treat both Type 2 Diabetes and its complications."
For individuals with Type 2 Diabetes, good diabetic control is the best protection against periodontal disease. Practicing good daily oral hygiene can also help to mitigate the risk. If you have Type 2 Diabetes, talk to your doctor about strategies for maintaining good blood sugar control and keeping your teeth and gums healthy and strong.
Posted on behalf of Crabapple Dental
12670 Crabapple Road, #110
Alpharetta, GA 30004
Phone: (678) 319-0123
Email: drsarah@crabappledental.com
Monday: 7:30 AM – 4:00 PM
Tuesday: 9:00 AM – 5:00 PM
Wednesday: 7:30 AM – 4:00 PM
Thursday: 7:30 AM – 3:00 PM
Friday: 7:30 AM – 3:00 PM