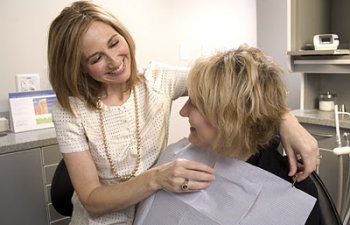 Many people tend to feel invincible regarding health concerns. They tend to either think that it will never happen to them or that any symptoms they experience are not serious. When it comes to dental issues, feeling invincible can lead to damaging, irreversible results. Gum disease is the leading cause of tooth loss in adults in the United States. What starts seemingly innocent can quickly turn into major oral health issues. At the first signs of gum disease, a person needs to bring it to his/her dentist's attention. At Crabapple Dental, Dr. Sarah Roberts and her committed dental staff provide comprehensive dental care of the highest standard.
The mouth is full of natural occurring bacteria. As food and beverages break down in the mouth, plaque forms on the teeth. If you have ever run your tongue over your teeth and they felt "fuzzy," then you have felt plaque on your teeth. Gum disease happens when this damaging plaque is not removed from the teeth on a regular basis. Brushing and flossing are the necessary methods for keeping plaque under control between regular dental cleanings. Brushing removes plaque from the outer surfaces of the teeth, and flossing removes the plaque that builds up between the teeth. While many people are good about brushing their teeth regularly, they often skip flossing. However, this is a huge mistake. Flossing is actually considered by dentists to be more important than brushing. That's right, flossing is more important. The spaces between the teeth are prime places for plaque and bacteria to thrive. Without removal of this plaque, the gums will become infected and will become damaged. Once gum disease progresses beyond red, tender, and swollen gums irreversible damage has occurred.
At Crabapple Dental in Alpharetta, we are the dental practice that you can trust for the highest quality family dental care. We understand that a healthy smile can have a huge beneficial impact on your entire life, and we are the dental practice to trust to achieve and maintain your beautiful smile.
Posted on behalf of Crabapple Dental
12670 Crabapple Road, #110
Alpharetta, GA 30004
Phone: (678) 319-0123
Email: drsarah@crabappledental.com
Monday: 7:30 AM – 4:00 PM
Tuesday: 9:00 AM – 5:00 PM
Wednesday: 7:30 AM – 4:00 PM
Thursday: 7:30 AM – 3:00 PM
Friday: 7:30 AM – 3:00 PM