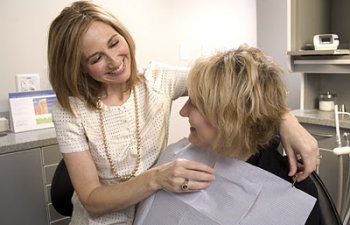 Most people take their oral health for granted, ignoring mild symptoms that they personally feel are not that big of a deal. However, the body was created to give you indications when things are awry so that you seek attention when you need it. Tooth sensitivity is often the first symptom of gum recession. Gum recession is a serious oral health issue that requires intervention from your dentist so that it does not compromise the health of your entire mouth.
The gum tissue inside the mouth protects the roots and nerves of the teeth and helps to hold the teeth securely in place. When gum recession occurs, the gums begin to pull away from the teeth to leave the sensitive roots and nerves exposed, as well as compromising the stability of the teeth. Tooth sensitivity is one of the first signs that gum recession is an issue. Experiencing jolts of pain and discomfort when eating cold foods, drinking hot beverages, or even applying biting pressure while chewing are indications that you need to see your dentist. If left untreated, gum recession can cause the teeth to become damaged at their roots, compromising not only the life of the tooth but also the health of the entire mouth.
Common causes of gum recession:
Aggressive brushing. While friction is necessary during brushing, it is important that you do not brush your teeth too aggressively. If too much force is applied to the gums, they will become damaged and pull away from the teeth.
Improper dental hygiene. A dirty mouth is an unhealthy mouth, and if you are not flossing daily then your mouth is dirtier than you think. Floss is the only tool designed to scrape away plaque from the gum line and from the tight spaces between the teeth. If you are not flossing, bacteria-laden plaque is building up and constantly attacking your gum tissue.
Gum disease. When plaque builds up, it hardens into tartar. Both plaque and tartar consist of acid-producing bacteria that destroy everything in their path. Gum disease is a direct result of bacterial damage, and it can cause permanent side-effects that are extensive and expensive to repair.
Misaligned teeth. Many people overlook the fact that crooked teeth are harder to clean than straight teeth. A straight smile is more than just attractive, it is a healthier smile.
Contact Crabapple Dental today if you are experiencing any signs of gum recession.
Posted on behalf of Crabapple Dental
12670 Crabapple Road, #110
Alpharetta, GA 30004
Phone: (678) 319-0123
Email: drsarah@crabappledental.com
Monday: 7:30 AM – 4:00 PM
Tuesday: 9:00 AM – 5:00 PM
Wednesday: 7:30 AM – 4:00 PM
Thursday: 7:30 AM – 3:00 PM
Friday: 7:30 AM – 3:00 PM