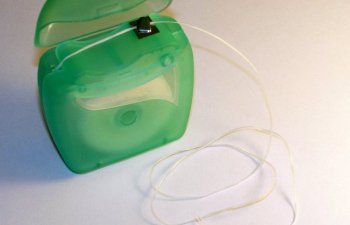 You know that exercise is good for your entire body. Exercise keeps your heart strong, it keeps the fat at bay, and it releases endorphins that make you feel good. You know that a healthy diet is also good for your health and body, and you make necessary changes and commitments to live a healthy lifestyle. Why then is it so difficult to floss your teeth? Flossing your teeth is an essential step in maintaining optimal oral health. At Crabapple Dental, we are here to partner with our patients to help them learn the techniques of flossing while educating them on its importance.
Did you know that flossing the teeth is considered to be more important than brushing them? Let that thought sink in the next time you think about skipping the floss. While brushing is certainly important, the natural formation of saliva in the mouth and the constant movement of the tongue does much of the work that brushing with a toothbrush does. Albeit, a toothbrush is more effective at cleaning the teeth all at once, but the surfaces of the teeth are naturally taken care of. However, it is the spaces in between the teeth that do not receive these same natural benefits; because of this, flossing is necessary.
The spaces between the teeth are very tight spots where food particles, plaque, and bacteria love to hang out and thrive. It is these very spots where gingivitis begins, and when it goes untreated, it can quickly turn into irreparable periodontal disease and tooth loss. Flossing removes food particles from the spaces in between the teeth and swipes away plaque that begins to form. Think of how dirty your teeth feel when you go from morning until night without brushing. That "fuzzy" feeling on your teeth is plaque. Now, think of how dirty the in between spaces of your teeth are if you are not flossing them. Yuck!
Call Crabapple Dental today to schedule your appointment for a thorough, professional cleaning to rid your mouth of plaque. We will educate you on the proper techniques of flossing so that it is no longer a chore that you hate, but one that you appreciate.
Posted on behalf of Crabapple Dental
12670 Crabapple Road, #110
Alpharetta, GA 30004
Phone: (678) 319-0123
Email: drsarah@crabappledental.com
Monday: 7:30 AM – 4:00 PM
Tuesday: 9:00 AM – 5:00 PM
Wednesday: 7:30 AM – 4:00 PM
Thursday: 7:30 AM – 3:00 PM
Friday: 7:30 AM – 3:00 PM