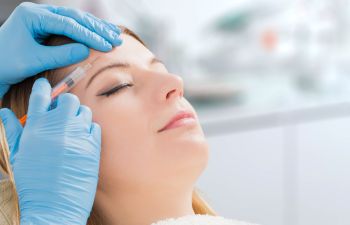 Botox continues to be a leading solution for patients that want to turn back the hands of time without undergoing facial plastic surgery. But did you know that you can get Botox from your dentist? Botox is a facial injection treatment that works by relaxing the muscles that contribute to fine lines and wrinkles. More specifically, Botox is a neuromodulator that blocks the nerve impulses to reduce muscle activity.
Crow's feet and laugh lines are two common aging concerns on the face. Unfortunately, these are caused by years of making facial expressions, especially smiling. Rather than vowing not to smile or laugh, why not treat the unwanted lines and wrinkles with Botox? When it comes to understanding your facial anatomy and how your smile contributes to facial aging, a dentist knows best.
At Crabapple Dental, we offer a full menu of services in cosmetic dentistry. However, we understand that some patients need or want to frame their new dazzling smile with a younger-looking face. In fact, facial rejuvenation treatments such as Botox can dramatically boost your cosmetic dentistry results. Therefore, in the same chair you got your smile makeover, you can also get reverse your wrinkles.
If you are hesitant to let a dentist administer your Botox, consider the following advantages:
Convenient: Schedules can get hectic. Trying to fit in a dental appointment and a Botox injection in two different places can be difficult. Let a dentist handle them both. You'll ensure that your dental care is not neglected and take years off of your appearance at the same time.
Cosmetic Dentistry Enhancement: As mentioned before, your cosmetic dental procedure (whether it was teeth whitening or veneers) can be enhanced with a simple Botox treatment, especially when injected into the lines and wrinkles around the mouth.
Safety: Today, there are many places you can get Botox, including the local mall kiosk. A significant advantage to choosing a dentist for Botox is patient safety. Not only are you being treated in a sterile environment, but your dentist carries the proper training and knowledge in your facial tissues, nerves, muscles and bone structure to ensure the placement of your injections are accurate and complication risk is low.
Comfort: A dentist also values the importance of a gentle touch. When it comes to using a needle around your mouth, a dentist uses a delicate and precise approach. In addition, you may even want to extend your sedation dentistry session to ensure your Botox is completely painless.
At Crabapple Dental, we are set apart by our ability to care for your oral health as well as offer non-surgical facial rejuvenation to improve your appearance. Our office proudly offers both Botox and dermal fillers so that we can customize your cosmetic enhancement to create the most youthful and balanced results possible. Call our office today to learn more about Botox and facial fillers from a qualified dentist.
Posted on behalf of Crabapple Dental
12670 Crabapple Road, #110
Alpharetta, GA 30004
Phone: (678) 319-0123
Email: drsarah@crabappledental.com
Monday: 7:30 AM – 4:00 PM
Tuesday: 9:00 AM – 5:00 PM
Wednesday: 7:30 AM – 4:00 PM
Thursday: 7:30 AM – 3:00 PM
Friday: 7:30 AM – 3:00 PM