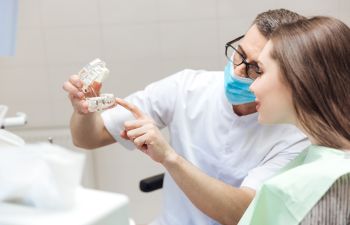 Dentures have been around for decades. They are the go-to solution when patients have a full arch of missing teeth. While traditional dentures have certainly come a long way in terms of fit and comfort, many patients still experience a host of setbacks that can impact their health and quality of life. Traditional dentures refer to dentures that rest against the gum line and are held in place by special adhesive cream. Fortunately, implant dentistry has given denture wearers a new and better alternative to traditional dentures.
If you are currently suffering from ill-fitting dentures, you may want to consider a switch to implant-supported dentures. This type of denture is also call an overdenture or implant-retained denture, which means that the denture or full arch of prosthetic teeth are anchored in place by a set of implants rather than adhesive cream. In doing so, the denture is firmly fixed in place and gains unrivaled stability compared to the conventional denture model. Since stability is the root of most denture woes, implant-dentures can be a life changing solution. Patients gain replacement teeth that look, feel and function most like real teeth.
The stability of implant-supported dentures fosters the following benefits:
Improved Self-Esteem – the ability to speak, eat and laugh with confidence.
Better Long-term Health and Nutrition – no need to avoid fibrous fruits and vegetables or hard to chew proteins due to loose dentures.
Prevent Bone Loss – implants can stimulate the underlying jawbone, allowing the bone to retain its density and shape and help patients avoid premature aging in the lower face.
Easy Maintenance – implant-supported dentures can be cared for like real teeth, without the need for messy adhesive creams and special cleaning products.
Ready to learn more about how to stabilize your dentures with dental implants? Call Crabapple Dental. We specialize in minimally-invasive implant dentistry to promote faster healing and successful recovery!
Posted on behalf of Crabapple Dental
12670 Crabapple Road, #110
Alpharetta, GA 30004
Phone: (678) 319-0123
Email: drsarah@crabappledental.com
Monday: 7:30 AM – 4:00 PM
Tuesday: 9:00 AM – 5:00 PM
Wednesday: 7:30 AM – 4:00 PM
Thursday: 7:30 AM – 3:00 PM
Friday: 7:30 AM – 3:00 PM