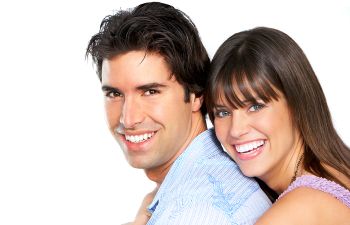 Do you find yourself admiring friends or even strangers that have dazzling white teeth? A bright smile can make a drastic difference in how you feel about yourself, as well as how others perceive you. Unfortunately, the foods, drinks and habits that are a part of your daily life can gradually impact the color of your teeth (for the worse). Staining may become impossible to remove with regular brushing and flossing, which leads many patients to investigate their options for whiter teeth.
Why Whiten With a Dentist
Affordable, professional teeth whitening is achieved with a stronger formula and advanced techniques. You will not get the same result with teeth whitening kits that are bought over-the-counter at a drug store. Another issue that you may encounter with store-bought products is a higher risk of soft tissue irritation, which is avoidable by turning to a dentist for professional teeth whitening.
We are proud to offer three excellent options in teeth whitening, including ZOOM, GLO Science and KoR Whitening. With such an expansive menu of options, we are confident we can provide patients with a solution that is both affordable and convenient. If you prefer to trust your entire teeth whitening process to the professionals, we can take care of treatment at our Crabapple Dental office. This is also the best way to get faster results. Alternatively, our teeth whitening services also include at-home options, such as the GLO home kit that is safe, effective and more convenient for busy patients. Your treatment will still be guided and monitored by a dental professional.
Teeth Whitening after Cleaning
At Crabapple Dental, your smile health always comes before your smile appearance. In most cases, this goes hand in hand. In other words, teeth that are well taken care of are also more attractive. While our office is happy to provide teeth whitening treatments, we like to make sure your teeth have been professionally cleaned first.
Our Alpharetta office offers excellent teeth cleaning services. Once your teeth have been cleaned of harmful bacteria and surface staining, whitening is the logical next step for a brighter smile. We proudly offer affordable solutions for smile enhancements through the combination of money-saving preventive dentistry and teeth whitening advancements.
Posted on behalf of Crabapple Dental
12670 Crabapple Road, #110
Alpharetta, GA 30004
Phone: (678) 319-0123
Email: drsarah@crabappledental.com
Monday: 7:30 AM – 4:00 PM
Tuesday: 9:00 AM – 5:00 PM
Wednesday: 7:30 AM – 4:00 PM
Thursday: 7:30 AM – 3:00 PM
Friday: 7:30 AM – 3:00 PM