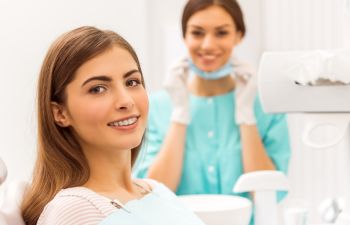 Your teeth are durable. In fact, they are made up of the strongest substance in your entire body. However, they are still subject to damage or injury. While a broken tooth can be an obvious dental emergency, a chipped tooth can create confusion about what needs to be done. Some tooth chips are painful or may create sharp edges on your teeth that put your lips and cheeks at risk. Other tooth chips are minor and barely noticeable. Regardless of the size or severity of your chipped tooth, all tooth damage needs to be addressed by your dentist. Even a hairline crack in your tooth can expose your tooth to further damage and set you up for serious dental problems in the future.
What Your Dentist May Do
Beyond restoring the cosmetic appearance of your tooth, your dentist will also repair the structure and integrity of the tooth to protect its health. A chipped tooth may be handled in one of the following ways:
Smooth It Out – for very minor chips (1 to 1.5 mm), your dentist may choose to simply smooth it out or file it down. This is to create a more comfortable surface for your tongue, lips and cheek. It is a quick and painless remedy for the mildest cases of chipped teeth.
Fill It In – for moderate chips, your dentist may choose a tooth-colored filling material to restore your tooth. This is typically done using composite resin and is also referred to as dental bonding. Bonding is an excellent choice to repair front teeth, as it provides a natural-looking and strong restoration.
Crown It – for severe tooth chips that have compromised a large portion of your tooth surface, a dental crown may be needed. Rest assured that dental crowns are made with durable materials that mimic the shape, color and size of your natural teeth. A crown will cap all visible sides of your tooth and protect it from future infection or damage.
At Crabapple Dental, we know that tooth accidents do happen, whether you bit down on something too hard or suffered a sports-related injury to the mouth. If you are in doubt about whether your chipped tooth needs immediate treatment, please give us a call at our Alpharetta dental clinic! In general, if your chipped tooth is accompanied by pain, swelling or lip lacerations, you qualify for emergency dental care.
Posted on behalf of Crabapple Dental
12670 Crabapple Road, #110
Alpharetta, GA 30004
Phone: (678) 319-0123
Email: drsarah@crabappledental.com
Monday: 7:30 AM – 4:00 PM
Tuesday: 9:00 AM – 5:00 PM
Wednesday: 7:30 AM – 4:00 PM
Thursday: 7:30 AM – 3:00 PM
Friday: 7:30 AM – 3:00 PM