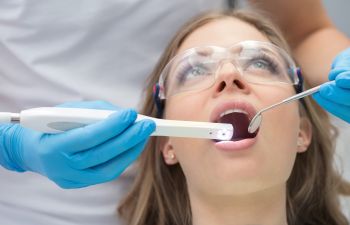 It is the word we all dread when we go to the dentist – "cavity."  Cavities, or tooth decay, begin when plaque is not cleaned from the surface of our teeth. After consuming sweets and sugary drinks, the bacteria in our mouths feed on the sugars and produce acids that attack the enamel of our teeth. Once the decay penetrates this outer layer, it can lead to a host of dental problems, including pain, sensitivity, discoloration, infection and even tooth loss. These are all disruptive and undesirable symptoms – but, what if we could catch decay before these symptoms present themselves? A modern dental technology called DIAGNOdent makes it possible to detect cavities at their earliest possible stage!
Preventing Problems Before They Start
Routine exams and X-rays can spot a large majority of dental problems. However, when it comes to cavities, the DIAGNOdent laser is able to detect microscopic cracks or dents that may be lurking beneath the surface. These are early stages of cavities that would otherwise be missed with conventional methods. These areas can be either treated conservatively or closely monitored.
How DIAGNOdent Works
The DIAGNOdent laser tool is equipped to reveal bacteria within a tooth without the need for invasive surgery. The handheld device works by measuring the amount of laser fluorescence within the layers of each tooth. Teeth that have cracks, bacteria or decay will exhibit fluoresce and alert us that the tooth is compromised in some way. The entire process is quick and painless. DIAGNOdent laser cavity detection is even safer than other diagnostic methods, such as x-rays.
What Patients Can Avoid
When a cavity is detected at such an early stage, patients can avoid the need for more invasive or costly dental procedures, such as root canals, dental crowns and extractions. In many cases, a simple tooth-colored filing can be used to repair the tooth after laser cavity detection. Beyond the wallet savings of using this advanced technology, patients can also avoid the disruptive symptoms of a cavity that has progressed, such as pain, discoloration and more.
Laser cavity detection is also ideal for children or those who want to avoid the probing and scraping involved in checking for cavities the conventional way. It is a great choice for patients who are at higher risk for decay, as they may need to come in for laser cavity detection more often than others.
Schedule Laser Cavity Detection in Alpharetta!
At Crabapple Dental, we are proud to offer the latest preventative tools that modern dentistry has to offer. To schedule your routine dental visit and DIAGNOdent cavity check, call us today.
Posted on behalf of Crabapple Dental
12670 Crabapple Road, #110
Alpharetta, GA 30004
Phone: (678) 319-0123
Email: drsarah@crabappledental.com
Monday: 7:30 AM – 4:00 PM
Tuesday: 9:00 AM – 5:00 PM
Wednesday: 7:30 AM – 4:00 PM
Thursday: 7:30 AM – 3:00 PM
Friday: 7:30 AM – 3:00 PM