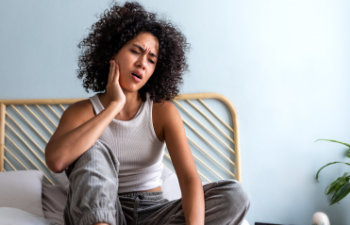 Jaw pain can be a debilitating condition that affects your daily life and overall well-being. If you're experiencing jaw pain or discomfort, you may be surprised to learn that orthodontic treatment can offer more than just a straighter smile. At Crabapple Dental, we can explain how orthodontics can improve jaw pain and provide you with the relief you've been seeking.
Understanding the Relationship
The jaw joint, known as the temporomandibular joint (TMJ), plays a crucial role in various oral functions such as speaking, chewing, and swallowing. When the jaw joint is misaligned or the teeth do not fit together properly (malocclusion), it can lead to jaw pain, headaches, and other associated symptoms. Orthodontic treatment aims to correct these misalignments and create a harmonious bite, alleviating the strain on the jaw joint.
Correcting Bite Issues
Malocclusion, such as an overbite, underbite, or crossbite, can place undue stress on the jaw joint, leading to chronic pain. Orthodontic treatment, including braces or clear aligners, can gradually shift the teeth into their proper positions, improving the alignment of the bite. By achieving a balanced bite, orthodontics can help reduce jaw pain and alleviate associated symptoms.
TMJ Disorder Treatment
Temporomandibular Joint Disorder (TMD) is a condition characterized by jaw pain, clicking or popping sounds, restricted jaw movement, and headaches. Orthodontic treatment can be an effective solution for TMD as it addresses the underlying cause of the disorder, which is often related to misaligned teeth or a dysfunctional bite. By realigning the teeth and improving the bite, orthodontics can help relieve the symptoms associated with TMD.
Enhanced Jaw Function
Orthodontic treatment not only improves the alignment of the teeth but also enhances overall jaw function. When your bite is properly aligned, the forces exerted during chewing and biting are distributed evenly, reducing excessive strain on the jaw joint. This balanced distribution of forces promotes efficient jaw function, reducing the likelihood of jaw pain and discomfort.
Personalized Treatment Plans
Orthodontic treatment is highly personalized, tailored to address your specific concerns and needs. During your orthodontic consultation, your dentist or orthodontist will evaluate your bite, jaw alignment, and overall oral health. They will create a customized treatment plan that may involve braces, clear aligners, or other orthodontic appliances. This personalized approach ensures that your orthodontic treatment not only improves your smile but also provides relief from jaw pain.
If you're struggling with jaw pain or discomfort, orthodontic treatment may hold the key to finding relief and improving your overall oral health. By addressing bite issues, correcting misalignments, and enhancing jaw function, orthodontics can help alleviate jaw pain and associated symptoms. Schedule a consultation with Crabapple Dental to explore how orthodontic treatment can transform not only your smile but also your quality of life. Don't let jaw pain hold you back—embrace the power of orthodontics and unlock a pain-free, confident smile.
Posted on behalf of Crabapple Dental
12670 Crabapple Road, #110
Alpharetta, GA 30004
Phone: (678) 319-0123
Email: drsarah@crabappledental.com
Monday: 7:30 AM – 4:00 PM
Tuesday: 9:00 AM – 5:00 PM
Wednesday: 7:30 AM – 4:00 PM
Thursday: 7:30 AM – 3:00 PM
Friday: 7:30 AM – 3:00 PM