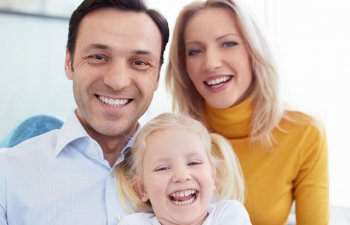 Over the past decade there has been a growing misconception that family members will receive the best dental care by going to age specific dentists. The rise of pediatric dentists has been on the rise as parents begin questioning where to take their children for dental care. At Crabapple Dental, we want to clear up this idea that children, adolescents, and adults need to see separate dentists. Dr. Sarah Roberts offers family dental care that is personalized and has the highest quality for patients of all ages.
Personalized dental care means that each patient received individualized treatment each time s/he enters our dental practice. Because we are a family dental practice we put a high emphasis on the oral health of all members within one family. We understand that there tend to be commonalities among family members causing brothers and sisters to be more susceptible to certain conditions that their parents have. However, these common trends are not all we are looking for when we examine the mouths of family members. At Crabapple Dental, we understand that no two mouths are created equal – even within the same family. Because we are dedicated to personalized family dental care, we take all aspects of oral health into consideration each time a patient lays back in the dental chair.
Dr. Sarah Roberts leads Crabapple Dental and has recently received Fellow Designation from LVI. The entire staff at Crabapple Dental is dedicated to providing a peaceful dental experience that is customized to each patient. With our emphasis on personalized family dental care, we provide patients with exceptional dental care. If you live in the Milton or Alpharetta area and are searching for a dental practice that you can trust for your entire family, contact Crabapple Dental today. We put our all into everything we provide to our patients, and we guarantee satisfaction on all of our dental work.
Posted on behalf of Crabapple Dental
12670 Crabapple Road, #110
Alpharetta, GA 30004
Phone: (678) 319-0123
Email: drsarah@crabappledental.com
Monday: 7:30 AM – 4:00 PM
Tuesday: 9:00 AM – 5:00 PM
Wednesday: 7:30 AM – 4:00 PM
Thursday: 7:30 AM – 3:00 PM
Friday: 7:30 AM – 3:00 PM