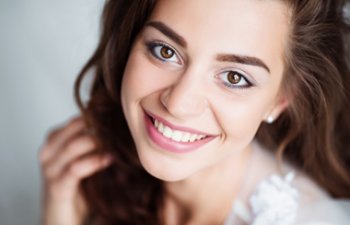 Your smile is one of your most powerful assets. Its appearance can affect your self-esteem as well as how other perceive you. Unfortunately, few of us were born with a perfect Hollywood smile. But with the help of modern cosmetic dentistry, you can have the white, straight and beautifully balanced set of teeth you've always wanted.
Porcelain veneers is one of the most life-changing procedures in cosmetic dentistry. Veneers are designed for those that want an effective and quick solution to fix their smile flaws. It is important to remember that veneers are not used to address or improve oral health issues, they are solely a cosmetic dental service.
What Does the Procedure Entail?
You can expect at least two office visits when getting porcelain veneers. The first one will involve discussing your specific concerns and goals as well as taking precise measurements of your teeth so that your veneers can be fabricated. When your veneers are ready, you will sit in the dental chair again so that we can prep your teeth and bond them in place. It is important to know that a tiny amount of your tooth must be shaved off to create a better bonding surface for your veneer.
Are Veneers Right for Me?
Veneers are placed on the front side of your teeth, and they are only used on the teeth that are visible when you smile. If you have severe misalignment or bite issues, you may opt for braces or Invisalign instead of porcelain veneers. Porcelain veneers can be customized in size, color and form to address your specific smile goals. In most cases, we can use veneers to solve the following types of smile imperfections:
Crooked Teeth
Discoloration
Chips or Cracks
Gaps
Misshapen Teeth
How Do I Care for My New Veneers?
You can care for your veneers just like your natural teeth. They are resistant to staining and decay, but that doesn't give you a free pass. You still have natural teeth and surrounding gum tissue that must be kept clean and healthy. In addition, you'll want to be sure and use your teeth correctly – for chewing your food. If you have a teeth grinding or nail biting habit, you'll need to address it before you get veneers, as this can cause your veneers to break or chip.
Want to learn more about getting a Hollywood smile with porcelain veneers? Call Crabapple Dental. Dr. Roberts carries unrivaled talent and skill in cosmetic dentistry and welcomes the opportunity to improve your smile confidence.
Posted on behalf of Crabapple Dental
12670 Crabapple Road, #110
Alpharetta, GA 30004
Phone: (678) 319-0123
Email: drsarah@crabappledental.com
Monday: 7:30 AM – 4:00 PM
Tuesday: 9:00 AM – 5:00 PM
Wednesday: 7:30 AM – 4:00 PM
Thursday: 7:30 AM – 3:00 PM
Friday: 7:30 AM – 3:00 PM