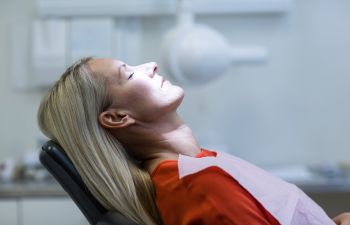 Are you avoiding the dentist because the thought of sitting in the dental chair makes your heart race? You are certainly not alone. Many Americans suffer from some degree of dental anxiety or dental fear. Whether you have a severe paranoia or mild aversion to being at a dental office, there is a solution you should know about called sedation dentistry. In fact, sedation dentistry can allow even the most anxious patients to receive the dental care their mouth and body needs for optimal health. Remember that neglected dental appointments can lead to painful oral problems, an unsightly smile and even threats to your body's overall health.
Sedation dentistry can involve taking a prescribed pill before you arrive or breathing in a colorless gas known as nitrous oxide (laughing gas) during your procedure. In either case, you should know that you won't be "put under" or "totally out of it." You may not remember your procedure and will certainly be fully relaxed, but you should still be able to communicate with your dentist when and if you want.
Here are some common reasons why patients ask for sedation during your next procedure.
Makes the appointment go by faster
Unbothered by dental needles or sounds such as dental drill or scraping tools
Allows multiple treatments to be done in one visit
Helps you sit still and relax despite a medical condition or physical limitation
Changes your perspective about dental care
Is sedation dentistry right for you? At Crabapple Dental, we want our patients to feel comfortable at every step of their visit. If this means you need the help of sedation dentistry to feel at ease, please do not hesitate to ask. Sedation dentistry is not reserved for special needs patients or for complex dental procedures. You are welcome to request sedation dentistry during a routine dental cleaning. A positive experience is our goal!
Posted on behalf of Crabapple Dental
12670 Crabapple Road, #110
Alpharetta, GA 30004
Phone: (678) 319-0123
Email: drsarah@crabappledental.com
Monday: 7:30 AM – 4:00 PM
Tuesday: 9:00 AM – 5:00 PM
Wednesday: 7:30 AM – 4:00 PM
Thursday: 7:30 AM – 3:00 PM
Friday: 7:30 AM – 3:00 PM