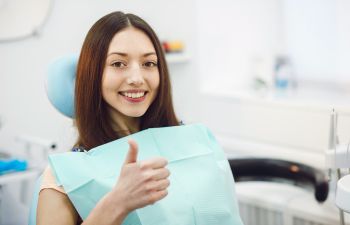 Flossing is clinically proven to reduce gingivitis (early gum disease) and improve the overall health of the gums. Without flossing, you miss nearly 35% of your tooth surface. Not removing food debris, plaque and bacteria on the teeth and gums can lead to serious dental problems such as decay and gum disease. Now that we've established the importance of flossing, it is up to you to actually do the job.
You may associate flossing with traditional flossing thread, either waxed, un-waxed or flavored. However, modern dental care products offer more solutions than the tangled string of floss you've always known. Today, consumers can boost their flossing game with an electronic water flosser. Rather than scraping the teeth with flossing thread or other handheld tools, water flossers remove plaque with water pressure. Using powerful streams of water, a water flosser not only painlessly blasts away food debris from tight places in your smile, but it also massages the gums for optimal circulation and health.
Is a Water Flosser Right for Me?
Should you invest the extra money and start using a water flosser, or stick to the old-fashioned string floss? The choice is ultimately yours. However, water flossers are easy to use and can be ideal for patients with the following:
Braces or other fixed orthodontic appliances
Dental bridges (temporary or permanent)
Dexterity issues
Kids
Special needs or physical limitations
Don't let the challenge of using traditional floss keep you from doing the job each day. Flossing is highly important to your overall oral health. At Crabapple Dental, we work with our patients to find the right dental hygiene tools to accommodate their needs. When it comes to water flossers, we are happy to recommend a specific brand and model that will help protect your beautiful smile best!
Posted on behalf of Dr. Sarah Roberts, Crabapple Dental
Crabapple Dental – Alpharetta Dentist
12670 Crabapple Rd, #110
Alpharetta, GA 30004
Phone: (678) 319-0123
Posted on behalf of Crabapple Dental
12670 Crabapple Road, #110
Alpharetta, GA 30004
Phone: (678) 319-0123
Email: drsarah@crabappledental.com
Monday: 7:30 AM – 4:00 PM
Tuesday: 9:00 AM – 5:00 PM
Wednesday: 7:30 AM – 4:00 PM
Thursday: 7:30 AM – 3:00 PM
Friday: 7:30 AM – 3:00 PM