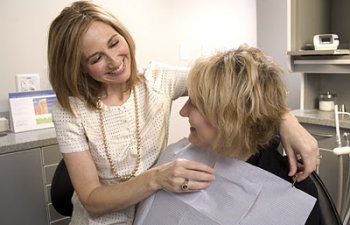 Your smile is one of the most recognizable features of your entire face. If your smile is incomplete, damaged, decayed, or causing issues that make you embarrassed, restorative dentistry can benefit you in a number of ways. Restorative dentistry is specifically performed to restore the health, function, and beauty of a smile so that it has optimal health. Most people take their teeth for granted until something happens to make them truly appreciate all their teeth do for them. You are dependent upon your teeth daily for chewing and eating, speaking and communicating clearly, and smiling at others. At Crabapple Dental, Dr. Sara Roberts and her professional dental team are committed to providing patients exceptional treatment to restore their smiles.
It is important to understand that the health of your mouth is based on your entire mouth, not just one individual tooth. All of your teeth work together to support one another, and when the health of a single tooth is compromised, then the health of the entire mouth is also compromised. One decayed or damaged tooth can cause the neighboring teeth to also become damaged or decayed. And a gap where a missing tooth used to be, will eventually compromise the stability of the neighboring teeth, making them extremely vulnerable to falling out.
At Crabapple Dental we offer the following restorative dentistry services:
Dental Fillings
Dental Implants
Denture Implants
Emergency Dentistry
Full Mouth Reconstruction
Periodontal Treatment
Porcelain Crowns
Porcelain Fixed Bridges
Root Canals
Teeth Whitening
Tooth Extraction
Veneers
If your mouth is in need of restorative dental services, please contact Crabapple Dental today. Dr. Roberts and the entire dental team at Crabapple Dental are proud to provide exceptional services that are patient-centered and comfortable. Your smile is meant to last a lifetime, and we want to help you make this possible.
Posted on behalf of Crabapple Dental
12670 Crabapple Road, #110
Alpharetta, GA 30004
Phone: (678) 319-0123
Email: drsarah@crabappledental.com
Monday: 7:30 AM – 4:00 PM
Tuesday: 9:00 AM – 5:00 PM
Wednesday: 7:30 AM – 4:00 PM
Thursday: 7:30 AM – 3:00 PM
Friday: 7:30 AM – 3:00 PM