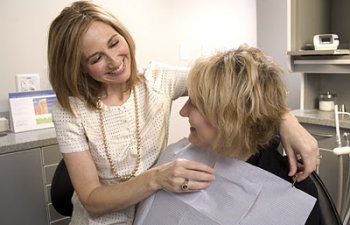 When it comes to your teeth, saving them is much more appealing than losing them. Although the teeth have a hard, outer layer, known as enamel, protecting them, they are not invincible. Teeth are living substances, and damages from decay, infection, or trauma can leave the tooth vulnerable. Treating a tooth that has been damaged is needed in order to save the tooth. However, one process that allows your tooth to be saved is also one of the most feared dental procedures – yet, it should not be. Root canal therapy is done throughout the United States, and over one million teeth are restored and saved through this dental procedure.

What Dr. Sarah Roberts wants you to understand is that root canals are not painful – infected teeth are painful! This dental procedure often gets a bad reputation because of its association with pain; yet, it is the damaged tooth that is painful, not the procedure done to save the tooth. A tooth that is infected or has received serious trauma or damage is extremely painful because the nerves and living tissues within the tooth are being affected by the infection and/or damage. If an infected or damaged tooth is allowed to fester inside the mouth, the pain will become unbearable and the damage too severe for the tooth to be saved.
Root canals are performed under anesthesia so that patients do not feel any pain or discomfort throughout the procedure. In fact, most patients feel like a new person after the procedure because the pain that they walked in with has been completely relieved! During a root canal, the tooth is opened so that the damaged pulp can be removed. The infection or damage will be extracted, the tooth will be treated with antibiotics, and the tooth will then be sealed so that it is protected from further damage. At Crabapple Dental, we proudly offer sedation dentistry for patients who need extra assistance calming their nerves before and during the appointment.
Dr. Roberts and her entire dental staff are pleased to offer the highest standard in dentistry at Crabapple Dental in Alpharetta, Georgia. If you have a tooth that has been damaged, is infected, or is causing you any pain, please do not suffer any longer. We are here to help alleviate your dental pain and restore your oral health. Call today.
Posted on behalf of Crabapple Dental
12670 Crabapple Road, #110
Alpharetta, GA 30004
Phone: (678) 319-0123
Email: drsarah@crabappledental.com
Monday: 7:30 AM – 4:00 PM
Tuesday: 9:00 AM – 5:00 PM
Wednesday: 7:30 AM – 4:00 PM
Thursday: 7:30 AM – 3:00 PM
Friday: 7:30 AM – 3:00 PM