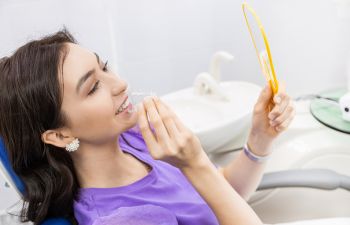 Orthodontic treatment isn't what it used to be. Now, there are modern teeth-straightening options that are not only more comfortable and discreet, but also require less time to do their job. Six Month Smiles is a short-term orthodontic treatment system that allows patients to achieve the smile they have always wanted, without the time and expense involved in traditional metal braces. If crooked or gapped teeth are negatively affecting your confidence and quality of life as an adult, consider a Six Month Smiles dentist.
Clear Cosmetic Adult Braces
A straight smile is a confident smile. However, many adults shy away from the thought of wearing metal braces for a lengthy period of time. Fortunately, there is now a favorable alternative. Six Month Smiles is designed to effectively move your teeth into proper position through the use of tooth-colored brackets and wires. This means that others many not even notice that you are undergoing orthodontic treatment. While your smile is gently lining up, you don't have to be embarrassed by unsightly metal braces.
Many of our patients who choose six month braces had orthodontic treatment as teenagers and as they have gotten older, their teeth have shifted. We are able to "shift" the teeth back to a more optimal esthetic appearance. The total treatment time is determined based on your unique orthodontic concerns. However, most patients achieve ideal results in as little as six months. It is important to note that after your treatment is complete, you may be asked to wear some form of retainer to keep the teeth in place and avoid further movement. We want our patients to retain their smile correction results for a lifetime if possible.
Is Six Month Smiles Right for You?
To find out if six month clear braces is right for you, please schedule a consultation with Dr. Sarah Roberts, our reputable Alpharetta dentist today. We offer attractive financing plans and convenient scheduling options to make your orthodontic process as stress-free as possible.
Posted on behalf of Crabapple Dental
12670 Crabapple Road, #110
Alpharetta, GA 30004
Phone: (678) 319-0123
Email: drsarah@crabappledental.com
Monday: 7:30 AM – 4:00 PM
Tuesday: 9:00 AM – 5:00 PM
Wednesday: 7:30 AM – 4:00 PM
Thursday: 7:30 AM – 3:00 PM
Friday: 7:30 AM – 3:00 PM