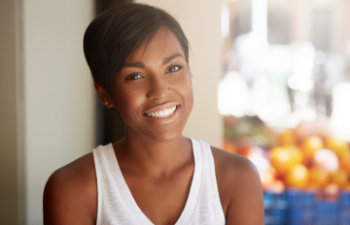 At Crabapple Dental, we are committed to providing our patients with the latest advancements in dental care to promote optimal oral health and overall well-being. One such advancement that sets us apart is our embrace of Ozone Therapy. As an Ozone Therapy dental office, we believe in harnessing the power of ozone to enhance the quality and effectiveness of our treatments. In this blog post, we will explore the numerous benefits of being an Ozone Therapy dental office and how it can positively impact your dental experience.
Enhanced Antimicrobial Action
Ozone gas possesses powerful antimicrobial properties. When used in dental treatments, ozone helps eliminate harmful bacteria, viruses, and fungi that can cause oral infections and decay. By incorporating Ozone Therapy, we can enhance the effectiveness of treatments such as cavity disinfection, root canal therapy, and periodontal disease management. This proactive approach to eliminating pathogens supports faster healing and reduces the risk of complications.
Minimally Invasive Dentistry
Ozone Therapy enables us to adopt a minimally invasive approach to dental care. Ozone gas can penetrate deep into infected or decayed tooth structure, targeting and eliminating bacteria without the need for aggressive drilling. As a result, we can preserve more of your natural tooth structure, reducing the need for extensive dental procedures and helping to maintain the integrity of your smile.
Promotes Faster Healing
Ozone Therapy stimulates blood flow and promotes oxygenation in the treated area, accelerating the healing process. It aids in reducing inflammation, swelling, and pain associated with various dental procedures. By incorporating ozone during treatments, we can help create an optimal environment for your body's natural healing mechanisms to work efficiently, leading to faster recovery times.
Minimizes Sensitivity
Tooth sensitivity is a common concern among dental patients. Ozone Therapy can help alleviate sensitivity by desensitizing the tooth structure. By applying ozone to the affected area, we can reduce hypersensitivity and provide you with a more comfortable dental experience.
Safe and Non-Toxic
Ozone is a natural substance and a powerful oxidizer that quickly breaks down into oxygen, leaving no toxic residue. Unlike traditional chemical disinfectants, ozone is safe for use in dentistry and does not have harmful side effects. This makes it an ideal choice for patients who prefer a holistic and biocompatible approach to dental care.
Preventative Dental Care
In addition to its therapeutic applications, Ozone Therapy also plays a crucial role in preventative dental care. Ozone can be used to sterilize dental instruments and equipment, reducing the risk of cross-contamination and promoting a safe and hygienic environment for patients. It can also be applied as a preventive treatment to strengthen tooth enamel and prevent the development of cavities.
Take Advantage of Ozone Therapy in Milton
Being an Ozone Therapy dental office allows us at Crabapple Dental to offer our patients a range of benefits that go beyond traditional dental care. By harnessing the power of ozone, we enhance the antimicrobial action of our treatments, adopt a minimally invasive approach, promote faster healing, minimize sensitivity, and provide a safe and biocompatible dental experience. Our commitment to embracing innovative technologies like Ozone Therapy reflects our dedication to providing you with exceptional, comprehensive dental care. Contact Crabapple Dental in Milton today to experience the many advantages of being treated at an Ozone Therapy dental office and embark on a journey towards optimal oral health.
Posted on behalf of Crabapple Dental
12670 Crabapple Road, #110
Alpharetta, GA 30004
Phone: (678) 319-0123
Email: drsarah@crabappledental.com
Monday: 7:30 AM – 4:00 PM
Tuesday: 9:00 AM – 5:00 PM
Wednesday: 7:30 AM – 4:00 PM
Thursday: 7:30 AM – 3:00 PM
Friday: 7:30 AM – 3:00 PM