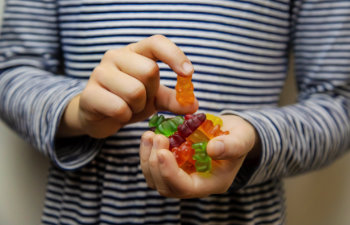 If you hate swallowing pills, you may be taking your daily vitamins in a gummy form. Gummy vitamins have become increasingly popular for both kids and adults. Not only are they easy to consume, but getting your nutritional supplements can taste good too. When it comes to your dentist's opinion, however, gummy vitamins aren't as favored. There are some dental dangers to be aware of if you rely on vitamins in a gummy or gelatin form.
Why are Gummies So Bad for Your Teeth?
It's not hard to understand why your dentist is leery of gummy vitamins. They may be packed with essential nutrients for your body, but their consistency and form can do some damage in your mouth first. There is typically sugar in gummy vitamins and its sticky texture can stick to teeth and gums, leading to tooth decay and gum disease. If not removed with rinsing or brushing, your gummy vitamins could be creating a breeding ground for harmful bacteria that can erode your tooth enamel and lead to cavities. When taken on a daily basis, or if you like to pop a gummy vitamin before bed, this can make it more difficult for saliva to neutralize acids and repair the damage done by bacteria.
What You Can Do?
As your trusted dentist at Crabapple Dental, we are not asking you to skip your daily vitamins for the sake of your smile health. However, we are recommending that you take measures to protect your teeth and gums if you prefer gummy vitamins.
To reduce the dental dangers of gummy vitamins, it is recommended to brush your teeth after consuming them, or at least rinse your mouth with water to help remove any sticky residue left on your teeth and gums. It is also important to maintain good oral hygiene practices, such as regular brushing, flossing and dental check-ups. If you have kids that love their gummies, make sure they also understand the dental risks involved.
For more tips on keeping a healthy smile, call Crabapple Dental. We can recommend ways to get your nutritional supplements without compromising your dental health.
Posted on behalf of Crabapple Dental
12670 Crabapple Road, #110
Alpharetta, GA 30004
Phone: (678) 319-0123
Email: drsarah@crabappledental.com
Monday: 7:30 AM – 4:00 PM
Tuesday: 9:00 AM – 5:00 PM
Wednesday: 7:30 AM – 4:00 PM
Thursday: 7:30 AM – 3:00 PM
Friday: 7:30 AM – 3:00 PM