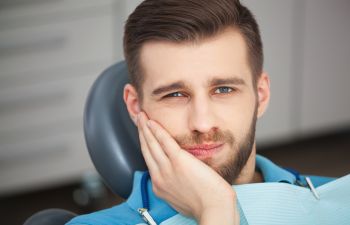 Do you suffer from pain, stiffness or clicking in your jaw? Do you wake up with a tension headache or experience ear and neck pain on a daily basis? These are signs that your TMJ (temporomandibular joint) is not functioning properly. Your TMJ is the small set of joints that connects your jaw to your skull and allows you to speak, chew and yawn. When this joint is misaligned, irritated or overworked, it can produce disruptive symptoms that threaten your quality of life. While some patients with TMJ disorder may suffer from slight jaw soreness, others may have severe pain that radiates to the ears, neck and head.
Causes of Jaw Pain
Treating jaw pain is not a one-size-fits-all approach. It is imperative to let a trained TMJ dentist determine the accurate cause of your jaw pain first. TMJ symptoms can develop due to a wide variety of circumstances and factors, including the following:
Nighttime Teeth grinding
Teeth/Jaw clenching
Misaligned teeth
Uneven teeth or dental work
Direct blow or injury to the jaw
Chewing gum excessively
Tailoring a TMJ Treatment Plan
Depending on what is causing your TMJ to function poorly, we can recommend an effective and lasting treatment plan. Some patients may need orthodontics to align their bite, while others may need a new crown or filling to make their teeth fit together more evenly. In the majority of cases, TMJ symptoms are triggered by teeth grinding or clenching habit. In such cases, a custom mouth guard can be worn at night to protect the teeth and jaw joint from such extreme forces and pressure.
At Crabapple Dental, we have an esteemed dentist who specializes in TMJ and bite problems. We even offer a TMJ questionnaire for patients to fill out online to get started. Simply contact our Alpharetta office to find relief from your jaw pain today!
Posted on behalf of Crabapple Dental
12670 Crabapple Road, #110
Alpharetta, GA 30004
Phone: (678) 319-0123
Email: drsarah@crabappledental.com
Monday: 7:30 AM – 4:00 PM
Tuesday: 9:00 AM – 5:00 PM
Wednesday: 7:30 AM – 4:00 PM
Thursday: 7:30 AM – 3:00 PM
Friday: 7:30 AM – 3:00 PM