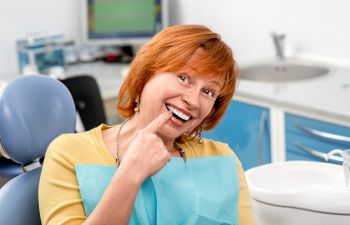 While never a welcome event, losing a permanent tooth can happen. Teeth can fall out or need to be extracted due to accidental trauma, severe decay or advanced gum disease. Regardless of the reason for your missing tooth, however, it is important to understand the need for replacing that tooth. Restorative dentistry offers a full range of excellent options in teeth replacement, including bridges, dentures and dental implants. In most cases, the only bad decision is choosing to ignore your gapped smile.
When you think of a missing tooth, your first concern may be related to cosmetics. How will a missing tooth impact the appearance of your smile? The truth is, however, missing teeth do far more than threaten your facial aesthetics. If not replaced in a timely manner, a missing tooth triggers a series of unwanted events within your oral health. The location and number of teeth missing can affect the severity of these oral health consequences.
Soon after an adult tooth falls out or is extracted, the neighboring teeth will naturally migrate towards the open space. This means your entire arch of teeth can shift out of proper alignment. Not only does this create a bad bite that can put extra strain on your TMJ (jaw joint), but misalignment often causes crooked or overlapping teeth that are difficult to keep clean. Consequently, you may find yourself vulnerable to more cavities and gum disease from the extra plaque buildup.
The consequences of missing teeth don't end with your oral health. Since every tooth serves a unique purpose in helping us chew and speak, you may suffer from speech challenges as well as be forced to avoid eating certain foods. These are detriments that can undoubtedly affect your quality of life. Lastly, a missing tooth can't stimulate your jawbone like it needs. Therefore, patients may experience a hallowing of their lower face if the jawbone loses its shape, density and form.
The good news is that missing teeth don't have to be a threat at all. When replaced with today's life-like dental restorations, you can avoid oral health issues, misalignment, low self-esteem and other setbacks of a missing tooth. Dental implants are the only restorative solution, however, that can help patients avoid bone loss after a missing tooth because they replace the missing tooth as well as the missing tooth root that is anchored into the jawbone.
Want to learn more about replacing that missing tooth or teeth? Call Crabapple Dental. Our dentists offer complete restorative dentistry and implant dentistry. We are confident we can help!
Posted on behalf of Crabapple Dental
12670 Crabapple Road, #110
Alpharetta, GA 30004
Phone: (678) 319-0123
Email: drsarah@crabappledental.com
Monday: 7:30 AM – 4:00 PM
Tuesday: 9:00 AM – 5:00 PM
Wednesday: 7:30 AM – 4:00 PM
Thursday: 7:30 AM – 3:00 PM
Friday: 7:30 AM – 3:00 PM