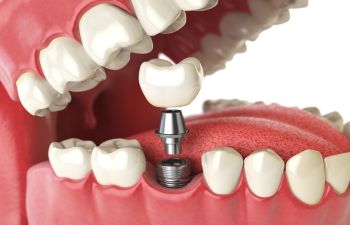 Dental implants carry an unrivaled success rate of over 95%. They've been used to replace missing teeth for over four decades. Still, many patients come to us with questions about this restorative dentistry solution, including how the process works and how long implants last?
In order to answer any question about dental implants, it is best to understand the physical structures or components that make up a dental implant:
Implant post – The actual implant is a titanium post or screw that is surgically inserted in your jaw bone. Over the next several months, the implant is left alone to heal. During this time, a natural process of osseointegration occurs, in which the biocompatible titanium fuses to the surrounding healthy bone of your jaw to form a permanent artificial tooth root.
Abutment – A less talked about component of implant dentistry is the small attachment piece that rests on top of your implant post, called the abutment. This vital part is used to connect an implant restoration on top.
Restoration – This is the only visible component of your dental implant, also known as your prosthetic tooth or teeth. Depending on your functional needs for tooth replacement, your restoration may include a crown, bridge or denture.
How Long Do Dental Implants Last?
When answering this question, it is important to be specific. The actual dental implant that is surgically placed in your jawbone (underneath the gum line), is designed to last a lifetime as long as you maintain a healthy mouth. The implant restoration (that sits on top of your implant) may have a lifespan of about 10 to 15 years, as this would be your prosthetic tooth such as a crown or partial. If your crown breaks or becomes loose, you will likely not have to replace the entire implant.
How Can You Protect your Implant Dentistry Investment?
The good news is that there are ways to protect your dental implants as well as your implant restorations. Maintaining optimal gum health is crucial, as these are the supporting tissues that keep your implants in place. Untreated gum disease can lead to a serious infection within these tissues that eventually destroys your underlying bone. If you lose jaw bone, your implant post could become loose or unstable.
As far as your implant restoration (crown, bridge or denture), it is important to take care of them as you would your natural teeth. This include daily brushing and flossing, as well as avoiding harmful oral habits such as teeth grinding, nail biting or ice chomping. Perhaps one of the best ways to protect your dental implants investment is to follow up with your routine dental exams, as these visits give us a chance to catch problems early, before they compromise your dental implants.  Call Crabapple Dental today – we are who Alpharetta trusts for top quality dental implants surgery and implants maintenance.
Posted on behalf of Crabapple Dental
12670 Crabapple Road, #110
Alpharetta, GA 30004
Phone: (678) 319-0123
Email: drsarah@crabappledental.com
Monday: 7:30 AM – 4:00 PM
Tuesday: 9:00 AM – 5:00 PM
Wednesday: 7:30 AM – 4:00 PM
Thursday: 7:30 AM – 3:00 PM
Friday: 7:30 AM – 3:00 PM