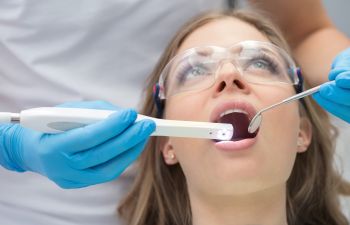 Like other health issues throughout the body, early detection is important when it comes to tooth decay. The earlier a cavity is detected, the more conservatively it can be treated (or simply monitored). In fact, early cavity detection may save you from invasive and costly repair treatment such as a large filling, root canal, crown or extraction.
While routine dental examinations and x-rays can spot a small cavity, modern dentistry offers an even better solution. At Crabapple Dental, we proudly use laser cavity detection to ensure we identify the very first stages of tooth decay, which can be microscopic cracks or dents in the tooth surface that would eventually lead to cavities developing inside the tooth. This laser technology allows us to detect decay when there are no outward or visible signs of a cavity.
How Does DIAGNOdent Laser Cavity Detection Work?
The DIAGNOdent laser tool is designed to identify bacteria within a tooth without the need for invasive procedures. This advanced dental tool works by measuring the amount of laser fluorescence within each tooth. Teeth that are free from cracks, decay or bacteria will not emit fluorescence as the laser passes over them. However, teeth that that are decaying from within will illuminate and alert the dentist that bacteria or damage has developed in the tooth's surface.
Don't worry; the DIAGNOdent laser cavity detection is painless and quick. It is a small handheld instrument that your dentist passes over each tooth to check the digital detection reading. The entire process is accomplished in minutes and it is safer and more comfortable than manual probing for cavities or undergoing traditional diagnostic x-rays.
Do You Have a Cavity Brewing?
Everyone is at risk for tooth decay, not just children or those who consume large amounts of candy and soda. The only way to know that a cavity may be forming before it produces symptoms is to schedule an appointment at Crabapple Dental. We use laser cavity detection during your routine dental visits!
Posted on behalf of Crabapple Dental
12670 Crabapple Road, #110
Alpharetta, GA 30004
Phone: (678) 319-0123
Email: drsarah@crabappledental.com
Monday: 7:30 AM – 4:00 PM
Tuesday: 9:00 AM – 5:00 PM
Wednesday: 7:30 AM – 4:00 PM
Thursday: 7:30 AM – 3:00 PM
Friday: 7:30 AM – 3:00 PM