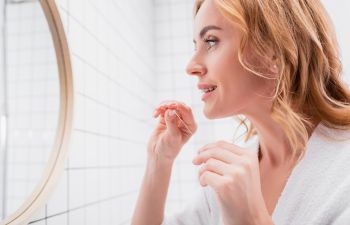 It is no surprise that flossing gets ignored, skipped and neglected more than any other dental hygiene chore. However, if people actually understood the serious consequences of not flossing, things would likely change. Flossing should never be taken lightly, In fact, according to many U.S. dentists, flossing is one of the most essential elements to proper oral hygiene!
Brushing is certainly critical to your oral health. However, there is simply no way for your toothbrush to reach all surfaces of your teeth. As much as 35% of your tooth surface is missed when your brush your teeth but skip flossing. That's because the sticky and filmy substance of plaque can build up in tight spaces in between your teeth and just under the gum line, and flossing is the only way to effectively remove it.
If this plaque is not removed on a regular basis, you'll be well on your way to gum disease. If you notice that your gums look red, swollen or bleed easily, you may have gingivitis because bacterial plaque was allowed to cause inflammation in these soft tissues. When gum infections are left untreated, periodontitis and tooth loss can result. Unfortunately, the damage doesn't stop there, gum disease can enter your bloodstream and affect the heart and lead to stroke, diabetes and more. Flossing may seem like a minor chore, but it can make a major difference in your overall health!
Do you dread the dentist because you hate to have your teeth scraped or because your gums bleed easily? Start flossing! Daily flossing can significantly improve your routine dental visit experience.
At Crabapple Dental, we have a full menu of gum disease treatments, including deep scaling and root planing which is basically a deep cleaning for your teeth and gums. However, the most important change you can make in restoring your gum health is to floss. With today's expansive options in floss, including various flavors, types and tools, there is really no excuse not to get this job done.
Posted on behalf of Crabapple Dental
12670 Crabapple Road, #110
Alpharetta, GA 30004
Phone: (678) 319-0123
Email: drsarah@crabappledental.com
Monday: 7:30 AM – 4:00 PM
Tuesday: 9:00 AM – 5:00 PM
Wednesday: 7:30 AM – 4:00 PM
Thursday: 7:30 AM – 3:00 PM
Friday: 7:30 AM – 3:00 PM